Nepal Squad & Match Schedule For Asia Cup 2023
Get ready for an action-packed tournament as Nepal gears up for the Asia Cup 2023! With an impressive squad and an exciting match schedule, Nepal is set to make its mark on the cricketing world. Who will be the key players to watch out for? Which teams will Nepal be facing in the group stage? Stay tuned as we unveil the Nepal squad and match schedule for the upcoming Asia Cup. Brace yourself for an exhilarating cricketing extravaganza!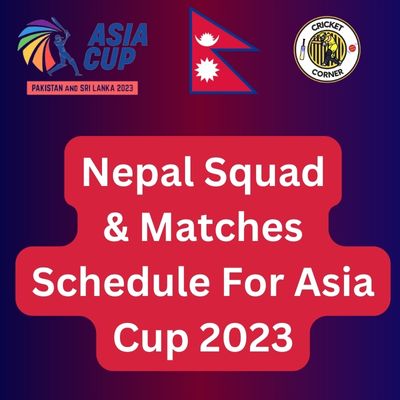 Nepal Squad For Asia Cup 2023
Leading the team is captain Rohit Paudel, who has been in great form this year. With 524 runs in 20 ODIs, including three half-centuries, Paudel will be a key player in the batting lineup. Alongside him, Kushal Bhurtel has been the leading run-getter for Nepal in ODIs this year, scoring 544 runs. His left-handed batting style adds variety and depth to the team's batting order.
Aasif Sheikh will not only contribute with his batting skills but also take on the role of the wicketkeeper for the team. In the Premier Cup 2023, he scored 59 runs in 5 ODIs, showing his ability to perform under pressure.
In terms of bowling, Nepal has a strong spin attack with Sandeep Lamichhane and Lalit Rajbanshi leading the way. Lamichhane has been the top wicket-taker for Nepal this year, with 42 wickets in 19 ODIs. His spin variations and ability to take wickets consistently make him a valuable asset. Rajbanshi, a left-arm spinner, has also been impressive, taking 18 wickets in 10 games.
Overall, Nepal's squad for the Asia Cup 2023 is well-balanced and has a mix of experienced players and young talents. The team's batting strength lies in the performances of Paudel and Bhurtel, while their spin bowling duo of Lamichhane and Rajbanshi adds depth to their bowling attack. However, they might need to work on their middle-order batting and pace bowling options to have a stronger overall lineup.
Complete Squad:
Kushal Bhurtel, Aasif Sheikh (WK), Rohit Paudel (Captain), Gyanendra Malla, Bhim Sharki, Kushal Malla, Aarif Sheikh, Dipendra Singh Airee, Pratis GC, Sandeep Lamichhane, Lalit Rajbanshi, Gulsan Jha, Sompal Kami, Karan KC
Nepal Asia Cup Schedule 2023
The 2023 Asia Cup is set to be an exciting tournament for Nepal as they find themselves in Group A, alongside two cricketing powerhouses, India and Pakistan. The Nepalese team will face a challenging journey as they go head-to-head with these Asian giants. The matches against India and Pakistan will test their skills and determination on the field.
On 30th August, Nepal will kick off their campaign against Pakistan at the Multan Cricket Stadium. Four days later, on 4th September, Nepal will face India at the Pallekele International Cricket Stadium in Pallekele.
Date and Time
Match Details
Wed, Aug 30
10:00 AM GMT | 03:00 PM LOCAL
Pakistan vs Nepal, 1st Match, Group A
Asia Cup, 2023
Multan Cricket Stadium, Multan
Mon, Sep 04
08:30 AM GMT | 02:00 PM LOCAL
India vs Nepal, 5th Match, Group A
Asia Cup, 2023
Pallekele International Cricket Stadium, Pallekele
Nepal's Winning Record in Asia Cup
If Nepal manages to secure a victory against either India or Pakistan in the Asia Cup 2023, it would be quite an upset. This is the first appearance of Team Nepal in the Asia Cup, which is a historic achievement for them. They have played exceptionally well in the ACC Men's Premier Cup 2023, which earned them a spot in the Asia Cup.
Cricket fans in Nepal will be able to enjoy the live coverage of Asia Cup 2023 on Star Sports Network, Hotstar & Net TV in HD and UHD quality in both English and Regional Indian languages.