How to Watch Asia Cup 2023 Live Streaming in USA
You're on the edge of your seat, heart racing, ready to cheer on your favorite team in the Asia Cup 2023. But you're in the USA, thousands of miles away from the action. No worries! We've got you covered. Here's a comprehensive guide on how to stream the Asia Cup live, right from the comfort of your living room. So gear up, it's time to bring the stadium home!
Asia Cup 2023 Summary
You'll find the Asia Cup 2023 summary quite interesting, as it's the first to be co-hosted by multiple countries, with games in both Pakistan and Sri Lanka. This unique arrangement splits the tournament, with four matches taking place in Pakistan, and the remaining nine in Sri Lanka.
The inaugural match is slated for August 30, promising an exciting face-off between Pakistan and Nepal at the Multan Cricket Stadium. As the host nation, Pakistan Cricket Board (PCB) has provided detailed instructions on how to purchase Asia Cup 2023 tickets for the matches in both countries.
The Asia Cup, since its inception, has grown in popularity, reaching an audience that extends beyond the boundaries of the participating countries. This year, the tournament promises to be a dynamic competition showcasing the best of Asian cricket, further amplified by the diverse hosting arrangement.
| | |
| --- | --- |
| Date | 30 August 2023 – 17 September 2023 |
| Administrator(s) | Asian Cricket Council |
| Cricket format | One Day International (ODI) |
| Host(s) | Pakistan, Sri Lanka |
| Participants | 6 |
Asia Cup 2023 Live Streaming in USA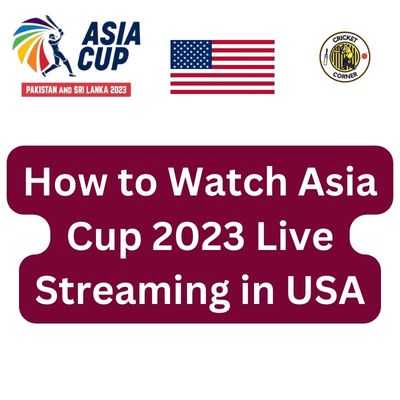 For the upcoming 2023 cricket tournament, you can rely on Willow TV to get all the action as it happens. If you're wondering how to watch Asia Cup 2023 live streaming in the USA, look no further. Willow TV is the only 24×7 live cricket channel in the country and it's got you covered. They're the official broadcaster of the Asia Cup 2023 live streaming in USA, so you won't miss a moment of the excitement.
Signing up for their premium subscription only costs USD $9.99/month. Unfortunately, there's no free trial period, but the price is a small one to pay for the amount of live cricket you'll get access to. Willow TV has exclusive agreements with numerous cricket boards worldwide, ensuring they bring you premium cricket content all year round.
But that's not all. Willow TV is also available on most satellite and cable networks as part of sports packages or South Asian packages. This means you'll have multiple ways to access the Asia Cup streaming in the USA.
What's even better is Willow TV's availability on the go. They have applications on the Play Store, Apple Store, Microsoft Store and even a PC application for MAC. This means you can catch up with Asia Cup 2023 live streaming wherever you are.
| | |
| --- | --- |
| Satellite & Cable Networks | Package |
| Dish | Available at 712 (Willow) and 9997 (Willow HD). Also available as part of Hindi Mega Pack, Hindi Elite Pack, Urdu Pak Mega Pack, Bangla Mega Pack, Punjabi Mega Pack, Tamil Mosaic Pack, and Telugu Package. |
| Fios | Available at Channel 806 and as part of the Sports Pass. |
| Sling | Get Willow a-la-carte or as part of Hindi, Telugu, Urdu, Tamil, and Bangla packages. |
| Spectrum | Available as part of the Spectrum TV Gold package. |
| Google Fiber | Available on channel 244, as part of the Premium & Sports Packages. |
| Xfinity | Call 800-266-2278 for more information. |
| Optimum | Available at channel 1171. Part of the Hindi Pack and the Optimum Sports Pack. |
| Century Link | Available at 668 (Willow) and 1668 (Willow HD). |
Watch India vs Pakistan Asia Cup in USA Free
If you're in the States, you can catch the fiery India vs Pakistan clash in the 2023 tournament free of charge on several websites such as Webcric, TouchCric, and CricHD. These online platforms are offering to stream the Asia Cup live, and you won't have to pay a dime. So, if you're wondering where to watch India vs Pakistan Asia Cup in USA, these websites are your go-to options.
Not only do these websites offer you the chance to watch India vs Pakistan Asia Cup in USA free, but they also provide live updates, commentary, and statistics. This means you'll be fully immersed in the game, feeling as though you're right there in the stadium with the teams.
There's another option, too. If you own a smart Android TV, consider installing the Live Cricket HD application from the Playstore. It's completely free and offers a great viewing experience. It's another fantastic way to enjoy India vs Pakistan live streaming in USA.
Asia Cup Winners List
Let's dive into the list of winners from previous tournaments, recognising the teams that've made their mark in history. The Asia Cup's inception was in 1984 in Sharjah, UAE, and the inaugural title was claimed by India. The Asia Cup winners list reveals a trend highlighting India as the most triumphant team, having won the title seven times.
The format of the tournament alternates between One Day Internationals (ODIs) and Twenty20 Internationals (T20Is). The 1984, 1988, 1990, 1995, 2010, and 2018 championships were all ODI format, and all these editions were won by India. Sri Lanka, another strong team in the tournament, claimed the ODI format titles in 1986, 1997, 2004, and 2008.
Pakistan has also had its share of victories, winning the ODI format Asia Cup in 2000 and 2012. The recent 2022 tournament switched to the T20I format and saw Sri Lanka emerging as the victorious team. In 2016, the first T20I format Asia Cup was held and, unsurprisingly, India took home the title.
| | | |
| --- | --- | --- |
| Season | Format | Champion |
| 1984 | ODI | India |
| 1986 | ODI | Sri Lanka |
| 1988 | ODI | India |
| 1990 | ODI | India |
| 1995 | ODI | India |
| 1997 | ODI | Sri Lanka |
| 2000 | ODI | Pakistan |
| 2004 | ODI | Sri Lanka |
| 2008 | ODI | Sri Lanka |
| 2010 | ODI | India |
| 2012 | ODI | Pakistan |
| 2014 | ODI | Sri Lanka |
| 2016 | T20I | India |
| 2018 | ODI | India |
| 2022 | T20I | Sri Lanka |
The Asia Cup 2023 is eagerly awaited by fans worldwide, including Asia Cup USA followers. It will return to ODI format this year to provide a great opportunity for the Asian cricket nations to prepare themselves for the upcoming ICC Cricket World Cup 2023 which will be played in India from October this year.