How to Watch Asia Cup 2023 Live Streaming in Saudi Arabia
You're in Saudi Arabia and don't want to miss the thrilling Asia Cup 2023, right? Don't worry, you've got options! We'll show you how to catch every moment live, even if you're miles away from the action. So grab your favorite snacks, settle into a comfy spot, and let's get streaming. It's simpler than you'd think!
Asia Cup 2023 Summary
You'll get to see the final team squads of all the cricket nations in this upcoming Asia Cup 2023, which'll also give you a glimpse of who might clinch the World Glory in CWC 23. This tournament is not just about regional supremacy; it's a prelude to the much-awaited ICC Men's Cricket World Cup 2023. Every match counts and every player's performance matters.
The tournament will kick off at the end of August with Pakistan and Sri Lanka as hosts. Remember how India clinched victory under Rohit Sharma's captaincy back in 2018? Well, they're looking to repeat that success story again this year! Since PCB is hosting this time around, they'll rake all ticket sales revenues earned during the entire tournament.
| | |
| --- | --- |
| Particulars | Details |
| Tournament | Asia Cup 2023 |
| Organized by | Asian Cricket Council |
| Current Edition | 16th |
| Last Winner | Sri Lanka |
| Last Runner-up | Pakistan |
| Start Date (Opening Match) | 30 August 2023, Wednesday |
| End Date (Final Match) | 17 September 2023, Sunday |
| Matches | 13 Match |
| No. of Teams | 6 |
| Teams | India, Pakistan, Sri Lanka, Afghanistan, Bangladesh, and Nepal |
| No. of Venues | 4 |
Asia Cup 2023 Live Streaming in Saudi Arabia
You're about to dive into a discussion covering various platforms where you can catch Asia Cup 2023 live streaming in Saudi Arabia. We'll explore options such as Dish TV, CricLife, and Switch TV for uninterrupted coverage of the tournament. Additionally, we'll shed light on OSN Sports Live Stream and Hotstar India as noteworthy platforms for catching every exciting moment of the matches.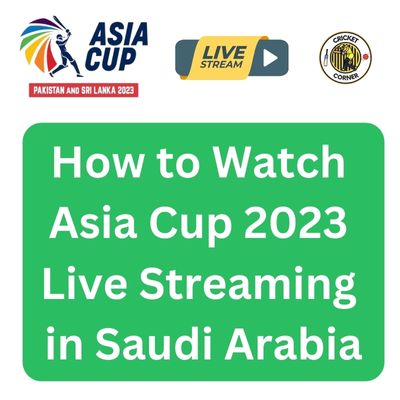 Dish TV
With DishTV, it's possible to catch all the live action of Asia Cup 2023 from the comfort of your home in Saudi Arabia. As Asia's largest Direct Home Entertainment Company, DishTV offers national and international TV channels worldwide via satellite. Hence, you don't have to worry about missing a single moment of the tournament.
The dish tv price in saudi arabia is affordable and it provides crystal clear quality viewing experience. To keep enjoying this service uninterrupted, ensure you timely complete your dish tv recharge in Saudi Arabia. A wide range of dish tv recharge plan ksa is available to suit diverse viewing preferences. So grab your DishTV Set Top Box now, tune into Star Sports or DD Sports, and get ready for an unrivalled cricketing experience!
Below are all the live TV Channels for Asia Cup coverage on Dish TV.
| | |
| --- | --- |
| Channel Name | Channel Number |
| Star Sports 1 Hindi | 607/407 |
| Star Sports 1 HD Hindi | 606/925 |
| Star Sports 1 | 603/401 |
| Star Sports 1 HD | 602/923 |
| Star Sports Select 1 | 646/429 |
| Star Sports Select 1 HD | 645/929 |
| Star Sports 2 | 605/403 |
| Star Sports 2 HD | 604/924 |
| Star Sports Select 2 | 648/430 |
| Star Sports Select 2 HD | 647/930 |
| Star Sports 1 Tamil | 1865 |
| DD Sports SD (Free) | 639/435 |
CricLife
You're probably eager to catch the Asia Cup 2023 live action and wondering how you can access it via the STARZPLAY app. We've got that covered for you. In this discussion, we'll guide you through the simple steps on how to watch Criclife, ensuring uninterrupted cricket entertainment at your fingertips.
How to Watch Criclife on STARZPLAY App
To catch Asia Cup 2023 live streaming in Saudia, you'll need to access Criclife on the STARZPLAY app. It's your go-to for Asia Cup live streaming in KSA. With a subscription, you can enjoy Asia Cup cricket live streaming online Saudi Arabia and OSN sports cricket live streaming KSA. Don't miss any action; get STARZPLAY and stay updated with all cricket happenings.
How to Get STARZPLAY Free Trial
When signing up for the first time, you'll get a 7-day free trial to enjoy STARZPLAY. This means you can watch live streaming of the Asia Cup 2023 in Saudi Arabia without paying anything for a week. It's the perfect opportunity to catch all the action from the tournament and decide if STARZPLAY is right for you. Don't miss out on this chance to watch Asia Cup 2023 in Saudi Arabia with a free trial of STARZPLAY.
What devices are supported by Starzplay?
STARZPLAY supports various devices like iOS, Android, Mac, Windows, Apple TV, Chromecast, PS4 console, and Samsung Smart TV. So if you're in Saudi Arabia and want to watch the Asia Cup live streaming, STARZPLAY has got you covered. Whether you prefer watching on your phone or on a big screen at home, STARZPLAY is compatible with all these devices. Just download the app or visit their website to start streaming your favorite content.
Switch TV Asia Cup 2023 Live Streaming
In recent years, Switch TV has become a major player in the on-demand content platform for expats living in Saudi Arabia or the United Arab Emirates. The best part if with Switch TV app you get to see many free channels as well and if you want to upgrade to watch more premium content you can do so in just a few clicks.
How to Sign UP to Switch TV
To sign up for Switch TV and enjoy the Asia Cup 2023 live streaming, simply download the Switch TV app from your app store. Once you've downloaded the app, follow the easy on-screen instructions to create your account and choose your desired package. With options to pay daily, weekly, or monthly, signing up for Switch TV is quick and convenient, ensuring that you never miss out on the excitement of live matches and premium channels.
OSN Sports Live Asia Cup Stream
It's your chance to experience an adrenaline rush with OSN Sports' broadcast of the 2023 cricket tournament, exclusively tailored for our Arabic viewers. With the India vs Pakistan Asia Cup live streaming, you'll be at the edge of your seat, engrossed in every run and wicket. This isn't just about watching a match; it's about being part of a thrilling spectacle.
OSN Sports Cricket HD Saudi Arabia provides high-definition coverage ensuring that you don't miss a moment. If you're looking for Dish TV India in Saudi Arabia, consider switching to OSN+. At only SAR 39, it's an affordable option offering unparalleled sports content. Don't miss out on this opportunity – immerse yourself in OSN Sports' electrifying live streams today.
Hotstar India
You're going to love the diverse content available on Hotstar India, from popular Indian shows and movies to incredible sports events. However, if you're in Saudi Arabia, you might run into some issues accessing this content due to regional restrictions and asking yourself the big question "How to unblock Hotstar from Saudi Arabia"?
Don't worry, there's a solution. By using a VPN service, you can mask your IP address and change it to appear as though you're in the USA, Canada or India. We recommend subscribing to Express VPN which offers servers originating from India. This will grant you instant access not only to all the amazing Indian content on Hotstar but also live streaming of the Asia Cup 2023! So why wait? Unblock Hotstar today and never miss any action again!
Watch Asia Cup 2023 Live Streaming Free Online in Saudi Arabia
There're several free streaming options available for you to enjoy Asia Cup 2023 live in Saudi Arabia, including Webcric, Smartcric, CricHD, Touchcric and Live Cricket HD Android app. These platforms make it possible for you to catch all the action without having to shell out on paid subscriptions.
Webcric is one such platform that offers a seamless experience of watching cricket matches online. It's easy-to-use and doesn't require any subscription. Similarly, Smartcric is another option where you can watch the coveted Pak vs India match as well as other games.
Cricfree also provides live streaming services without any charges. The interface is user-friendly and streams are of decent quality. Meanwhile, Touchcric serves its purpose by offering live scoring alongside video streaming making sure you don't miss out on any significant moments of the game.
Lastly, if you're an Android user, take advantage of the Live Cricket HD Android app – a dedicated application exclusively designed for cricket fans. This app not only offers live streaming but also features like ball-by-ball commentary and match highlights.
Regardless of your choice among these platforms, they all ensure that fans won't miss a single moment of this highly anticipated tournament. While they may not offer the same viewing quality as some paid options do, they certainly meet the requirements for being accessible and cost-effective solutions for enjoying Asia Cup 2023 in Saudi Arabia.