Southern Brave Women Squad 2023 & Match Schedule
Led by an extraordinary captain, this squad is packed with talent and experience. From explosive batters to lethal bowlers, they have it all. The Southern Brave Women Squad 2023 is a perfect blend of youth and experience, making them a formidable opponent for any team.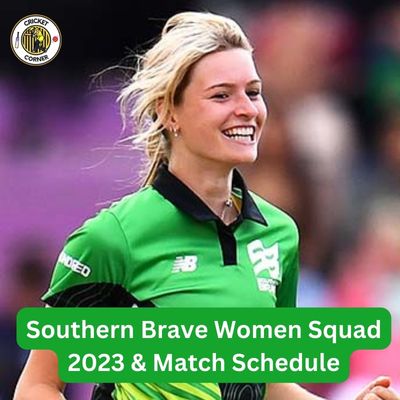 Southern Brave Women Franchise Overview
The Southern Brave Women's franchise, led by head coach Charlotte Edwards and captain Anya Shrubsole, is set to dominate the Hundred Women's competition in 2023. Representing Hampshire and Sussex, the team will showcase their skills at their home ground, the Rose Bowl in Hampshire, also known as the Ageas Bowl.
| | |
| --- | --- |
| Captain | Anya Shrubsole |
| Coach | Charlotte Edwards |
| City | Southampton |
| Founded | 2019 |
| Home Ground | Rose Bowl, Hampshire. |
| Capacity | 15,000 |
| Tournament | The Hundred (Women's) |
Southern Brave Women Full Squad 2023
The Southern Brave Women squad for the upcoming season consists of some highly skilled players from different cricketing nations. Smriti Mandhana from India, Chloe Tryon from South Africa, and Maitlan Brown from Australia bring their international experience to the team. Moreover, the squad also comprises players like Danni Wyatt, Anya Shrubsole, and Lauren Bell, who have been consistent performers in domestic cricket.
In terms of strengths, the Southern Brave Women's batting lineup appears to be formidable. With players like Mandhana, Tryon, and Wyatt, they have a good mix of power-hitters and technically sound batters. Their ability to dominate the opposition and score quick runs will be crucial in setting up big totals. Additionally, the team also has a good bowling attack led by Anya Shrubsole, who is known for her swing and accuracy. Players like Brown and Bell provide the necessary support with their consistent performances.
However, one potential weakness in their squad could be the lack of depth in the batting order. While they have some strong top-order batters, they might struggle if they lose early wickets and have to rely on the lower-order to finish the innings. Another area of concern could be the lack of spin options in their bowling attack, which might make it challenging for them to control the game in the middle overs.
Complete Squad:
Smriti Mandhana (India), Chloe Tryon (South Africa), Maitlan Brown (Australia), Lauren Bell, Maia Bouchier, Freya Kemp, Danni Wyatt, Anya Shrubsole, Georgia Adams, Rhianna Southby, Danielle Gregory
Southern Brave Women 2023 Schedule and TimeTable
The Southern Brave Women have a rich history of being one of the top two teams in the group stage in the previous seasons, the Southern Brave Women have unfortunately fallen short in the finals twice already. However, they are ready to give it their all this time and go for glory.
They have an opening game against Trent Rockets Women at Trent Bridge, Nottingham on the 1st of August for which they will be hoping to carry on the good show they have produced in the earlier seasons.
Below is the complete Southern Brave Women 2023 schedule.
Date
Match Details
Tue, Aug 01
05:30 PM GMT | 06:30 PM LOCAL
Trent Rockets Women vs Southern Brave Women, 1st Match
The Hundred Women's Competition 2023
Trent Bridge, Nottingham
Fri, Aug 04
05:30 PM GMT | 06:30 PM LOCAL
Southern Brave Women vs Welsh Fire Women, 5th Match
The Hundred Women's Competition 2023
The Rose Bowl, Southampton
Sun, Aug 06
01:30 PM GMT | 02:30 PM LOCAL
Southern Brave Women vs Northern Superchargers Women, 8th Match
The Hundred Women's Competition 2023
The Rose Bowl, Southampton
Tue, Aug 08
05:30 PM GMT | 06:30 PM LOCAL
London Spirit Women vs Southern Brave Women, 11th Match
The Hundred Women's Competition 2023
Lord's, London
Sat, Aug 12
05:00 PM GMT | 06:00 PM LOCAL
Welsh Fire Women vs Southern Brave Women, 17th Match
The Hundred Women's Competition 2023
Sophia Gardens, Cardiff
Wed, Aug 16
05:30 PM GMT | 06:30 PM LOCAL
Southern Brave Women vs Birmingham Phoenix Women, 22nd Match
The Hundred Women's Competition 2023
The Rose Bowl, Southampton
Sat, Aug 19
05:00 PM GMT | 06:00 PM LOCAL
Southern Brave Women vs Oval Invincibles Women, 26th Match
The Hundred Women's Competition 2023
The Rose Bowl, Southampton
Wed, Aug 23
05:30 PM GMT | 06:30 PM LOCAL
Manchester Originals Women vs Southern Brave Women, 31st Match
The Hundred Women's Competition 2023
Emirates Old Trafford, Manchester