The Ashes 2023 Schedule, Fixtures, Team Squads & Live Streaming Partners | Australia Tour of England 2023
The ultimate series in Test Cricket is coming back this June with England having the hosting rights for the Ashes 2023 series and they would like to take revenge for the last extremely poor performance by the English side as they lost Ashes 2021-22 series to Australia by 4-0 which brought a huge amount of criticism from England's former cricketers as well as commentators. After the last Ashes, ECB made a lot of changes in their management, coaching line up and the Ben Stokes took over as the captain which has produced some brilliant results for them as England these days play aggressive cricket in Test Cricket and doesn't shy away from hitting big shots on a consistent basis. The last time Australia visited England to play Ashes in 2019 the series was drawn and who could forget the brilliant innings by Ben Stokes on Day 5 with Jack Leach on the other hand creating history.
The Ashes 2023 Schedule & Fixtures
The format of the Ashes over the years has remained the same and the Ashes 2023 will also be played in the same format with five test matches being hosted in five different stadiums across England with houseful crowds.
The complete Ashes 2023 Schedule with date, time & venue details are as follows.
Date and Time
Match Details
Fri, Jun 16 – Tue, Jun 20
10:00 AM GMT | 11:00 AM LOCAL
England vs Australia, 1st Test
Edgbaston, Birmingham
Wed, Jun 28 – Sun, Jul 02
10:00 AM GMT | 11:00 AM LOCAL
England vs Australia, 2nd Test
Lord's, London
Thu, Jul 06 – Mon, Jul 10
10:00 AM GMT | 11:00 AM LOCAL
England vs Australia, 3rd Test
Headingley, Leeds
Wed, Jul 19 – Sun, Jul 23
10:00 AM GMT | 11:00 AM LOCAL
England vs Australia, 4th Test
Emirates Old Trafford, Manchester
Thu, Jul 27 – Mon, Jul 31
10:00 AM GMT | 11:00 AM LOCAL
England vs Australia, 5th Test
Kennington Oval, London
The Ashes Overall Results
The Ashes have a long history with the first series being played in 1882-83 in Australia. Since then there have been 72 Ashes series played out in which Australia got the upper hand with 34 series victories while England won 32 series with 6 times the Ashes was drawn.
Below are the overall stats.
| | | | |
| --- | --- | --- | --- |
| Series Played | Australia Wins | England Wins | Draws |
| 72 | 34 | 32 | 6 |
If we look at the last 10 Ashes series, England has won 5 of them while Australia won 4 of them. Still, the key stats to look at is from 2017 Australia got the upper hand in the majority of the test matches played between both nations. Hence, it is very interesting to see what Brendon McCullum & Ben Stokes aggressive approach produces in the upcoming Ashes 2023 series.
Below are the stats of the last 10 Ashes series.
| | | | | | |
| --- | --- | --- | --- | --- | --- |
| Year | Host | Tests | Australia | England | Winner |
| 2005 | England | 5 | 1 | 2 | England |
| 2006-07 | Australia | 5 | 5 | 0 | Australia |
| 2009 | England | 5 | 1 | 2 | England |
| 2010-11 | Australia | 5 | 1 | 3 | England |
| 2013 | England | 5 | 0 | 3 | England |
| 2013-14 | Australia | 5 | 5 | 0 | Australia |
| 2015 | England | 5 | 2 | 3 | England |
| 2017-18 | Australia | 5 | 4 | 0 | Australia |
| 2019 | England | 5 | 2 | 2 | Series Drawn |
| 2021-22 | Australia | 5 | 4 | 0 | Australia |
Team Squads For the Ashes 2023
Cricket Australia has finally announced their Ashes 2023 squad which will also feature in the World Test Championship 2021-2023 Final against India to be held at the Oval, London with huge expectations from both teams to win the beautiful Test Championship Mace. Winning the test mace is a very big deal as Test Cricket is the OG format of Cricket and whichever team wins it shows they are the strongest team in the world circuit.
Australia's squad looks well settled and quite balanced as they got great pace bowling options along with experienced spinners who have historically done quite well in the England conditions and this Test Championship Final will also provide a good time for Australia to be ready for the Ashes 2023 series.
ECB selection committee is still finalizing the players list for Ashes 2023 as they are currently monitoring some injury concerns of players like Archer as well as they are waiting for the IPL 2023 to be concluded as being a home team they are not in a rush to announce the team squad and but we expect it to be revealed in 2 to 3 weeks time.
Team Australia:
Pat Cummins (captain), Scott Boland, Alex Carey, Cameron Green, Marcus Harris, Josh Hazlewood, Travis Head, Josh Inglis, Usman Khawaja, Marnus Labuschagne, Nathan Lyon, Mitchell Marsh, Todd Murphy, Matthew Renshaw, Steven Smith, Mitchell Starc, David Warner
Team England:
To be Announced Soon.
The Ashes 2023 TV Channels & Live Streaming Partners
The Ashes 2023 is considered a global phenomenon as it has a huge viewership demand in all cricket-passionate countries like India, Pakistan, Bangladesh, and Sri Lanka along with cricket fans in USA & Canada. Both England & Australia are top-quality test-playing nations and they often provided the best-ever entertainment to cricket fans globally plus the English crowd present at the stadiums is quite supportive which makes it a beautiful sight to watch and enjoy competitive test cricket.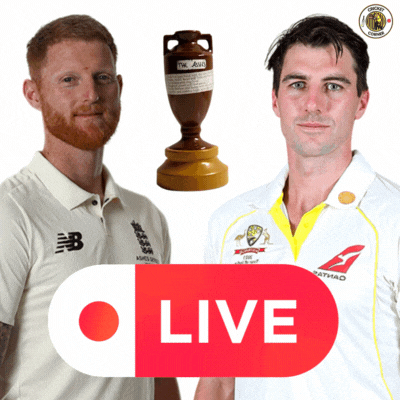 To cater to the huge viewership demand, ECB being the host of the Ashes 2023 has signed up leading global broadcasters who will make sure to provide Ashes live coverage in HD and Ultra HD quality on both linear & digital means.
| | |
| --- | --- |
| Country | Streaming TV Channels |
| United Kingdom | BT Sports, Sky Sports |
| Australia | Channel 7, Foxtel, Kayo, Fox Sports |
| India | SonyLIV |
| United States | Willow TV |
| MENA Countries | OSN Cricket HD, beIN Sports |
| South Africa | SuperSport |
| Bangladesh | T-Sport, Gazi TV, BTV |
| New Zealand | Sky Sports NZ |
| Caribbean | Flow Sports, SportsMax, ESPN+ |
While, Ashes 2023 can be watched on various different streaming platforms but we have mentioned four of the top streaming options which can be accessed through the USA, UK, AU & India.
How To Stream Ashes 2023 In the UK
Sky Sports is the official broadcaster for the entire Ashes 2023 series which means cricket fans in the UK will be able to enjoy all five test matches along with pre and post-match discussions along with statistical analysis during lunch & tea on every day of the test match.
If you haven't got Sky Sports access yet you can purchase the "Sky, Netflix & Sport bundle" for £46 which will provide you access to all the exclusive Sky OTT content as well as the Ashes series. For users who already have a Sky TV subscription, you can add the sports bundle at a cost of just £24. If you are not a vivid cricket fan and only like to see some highlights and match summary then you shouldn't pay to Sky Sports and enjoy free match highlights on BBC Sports channel.
How To Stream Ashes 2023 In the AU
Fans from Australia will be eager to enjoy Ashes 2023 as cricket in Australia have a very huge following and they are undoubtedly the best cricketing nation in the world with so many world titles under their belt. Cricket fans in Australia have three high-quality options to enjoy Ashes 2023 live coverage on Foxtel, Channel 7 & Kayo Sports.
Channel 7 is our preferred option to enjoy Ashes 2023 live coverage as it is completely free on both linear & digital. Channel 7's 7Plus is offering Ashes 2023 live streaming for free to fans living in Australia so download the 7Plus application today if you are living in AU.
Fox Cricket Channel or Foxtel will also provide Ashes live coverage but you will need to purchase their monthly subscription which will cost you around $74. While Kayo Sports is another option available that offers free 14 days trial and then charges its users $25 a month to provide uninterrupted live coverage of sporting events including the Ashes 2023.
How To Stream Ashes 2023 In India
Good news for Indian fans as SonyLiv has again earned the broadcasting rights for the Ashes series as they did for Ashes 2019-20. All Indian cricket fans can instantly get access to Ashes 2023 live streaming coverage by subscribing to very affordable SonyLiv packages which not only provide you access to sports live coverage but they got tons of quality OTT content available that you can enjoy in your free time with your family.
SonyLiv is available to be downloaded on both Android & iOS devices from Playstore & App Store.
How To Stream Ashes 2023 For Free
If you live in the USA, UK, India & Australia then we highly recommend you watch Ashes 2023 live coverage on above mentioned official streaming platforms but if for some reason you are having issues and don't live in those countries then we are giving you some reliable free streaming options which anyone living in any country can get access to instantly.
For cricket fans who like to enjoy Ashes 2023 live streaming on PC or Laptop for free then your best option is to head on to WebCric and check their homepage for live Ashes match banner and start watching the series.
For fans who want streaming access on their smartphones then head on to TouchCric which is a service owned by the same entity as WebCric but it offers only mobile live streaming.
Apart from the above two options, you can also watch the Ashes 2023 on websites like CricHD & Smartcric which are not as reliable as the above sites but they also got the free streaming links available.
The Ashes 2023 Pitch Conditions
Historically, ECB and England Men's Team have preferred playing on green pitches which can offer swing early on so their bowlers like James Anderson & Stuart Broad can trouble batters early on and provide crucial breakthroughs. But this time, their captain Ben Stokes asked ECB to make sure to prepare pitches that suit the "Bazball" all-attacking approach which England has been using quite successfully for the last year or so and have won series on a consistent basis with this approach.
Below is the statement given by Ben Stokes to Nasser Hussain on Sky Sports regarding pitches which are as follows.
"We've been very clear with the ground staff around England about what type of wickets we want and they've been very responsive to us, which is good.

We want fast, flat wickets. We want to go out there and score quickly. I'm smiling because I'm looking forward to it.

There's no point changing just because we're coming into an Ashes series. Every player knows the Ashes is where everything ramps up a bit – pressure, exposure, all kinds of stuff – but we'll just keep sticking to what we do."

Ben Stokes – England's Test Captain
Australia's National team selector George Bailey has also given a statement that they are aware of a different brand of cricket that could possibly be played in this year's Ashes so they will be initially naming the 15-member squad for the World Test Championship Final and the first 2 Ashes test to see how the team is performing and if changes are required then they will use that option to bring in new players who can provide further strengthen the team and help produces results in their favor.
Why Ashes is Hosted Early This Year?
ECB has made changes to the Ashes 2023 Schedule and we can say was forced to schedule it in June/July instead of the normal August window because of The Hundred tournament which begins in early August and is set to host matches on the same venues where the Ashes 2023 is to be played. Plus they couldn't get a window after the Hundred because of the weather conditions in September and there is an ICC Cricket World Cup to be played in India in October this year.