Seattle Orcas Squad 2023 & Match Schedule
With an impressive lineup of talented players, the Orcas are poised to make a big splash in the league this year. In this blog post, we will uncover the intricacies of the Seattle Orcas squad for 2023, exploring the strengths and strategies of each player. Additionally, we will provide you with the much-awaited Seattle Orcas 2023 schedule, ensuring you don't miss a single exhilarating match. So, grab your cricket caps and settle in as we embark on this thrilling journey with the Seattle Orcas squad.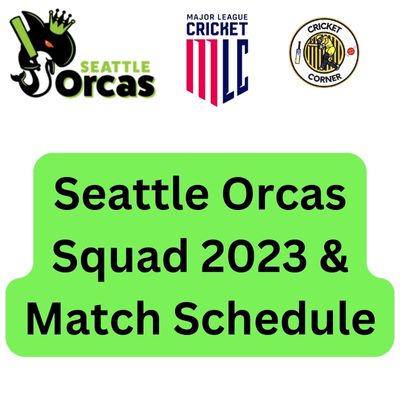 Seattle Orcas Franchise Overview
The Seattle Orcas, owned by a group of Indian entrepreneurs and the GMR Group, are preparing for their inaugural season in Major League Cricket (MLC). With the Marymoor Cricket Community Park set to be their home ground, the franchise is eager to make a strong impression in the league. The team will have a seating capacity of around 6,000 spectators.
The Seattle Orcas captain for the 2023 season is yet to be finalized by the franchise. However, they have several potential options for captaincy including Dasun Shanaka, Quinton de Kock, and Sikandar Raza. These players possess exceptional leadership qualities and can inspire and lead the side efficiently.
As head coach for the inaugural season of MLC, Pravin Amre has been appointed. His experience and expertise will play a crucial role in shaping the team's strategy and performance on the field.
| | |
| --- | --- |
| Franchise Nickname | SO |
| Captain | TBA |
| Coach | Pravin Amre |
| City | Seattle, Washington |
| Founded | 2022 |
| Home Ground | Marymoor Cricket Community Park |
| Capacity | 6,000 |
| Tournament | Major League Cricket |
Seattle Orcas Full Squad 2023
With an exciting lineup of talented players, get ready to discover the strengths and weaknesses of Seattle Orcas' 2023 squad in both their batting and bowling.
The Seattle Orcas full squad for 2023 consists of:
Quinton de Kock, Wayne Parnell, Dasun Shanaka, Sikandar Raza, Harmeet Singh, Shehan Jayasuriya, Shubham Ranjane, Cameron Gannon, Aaron Jones, Nauman Anwar, Phani Simhadri, Angelo Perera, Matthew Tromp
In terms of batting strength, the Seattle Orcas have a formidable top order with Quinton de Kock leading the charge. His aggressive style and ability to score quick runs make him a valuable asset. Alongside him is Aaron Jones who has shown consistency and the ability to anchor the innings. However, despite these strengths in the top order, there might be some concerns about the middle order's ability to maintain momentum.
Moving on to bowling strength, Wayne Parnell brings experience and skill to lead the attack. He is supported by Dasun Shanaka and Cameron Gannon who provide variety with their pace and swing. However, there might be a lack of depth in spin options which could pose challenges on certain pitches.
Overall, while the Seattle Orcas' batting appears strong at the top order but could face issues in maintaining momentum in the middle order. In terms of bowling strength, they have a solid pace attack but may need more options in spin department.
Seattle Orcas 2023 Schedule and TimeTable
The Seattle Orcas' schedule for the 2023 season is packed with exciting fixtures that will keep fans on their toes. They will kick off their journey with an opening game against Washington Freedom at Grand Prairie Stadium, Texas on the 14th of July. This highly anticipated match will set the tone for what promises to be an exhilarating season.
Below is the complete Seattle Orcas 2023 match Schedule for MLC.
Date and Month
Match Details
Fri, Jul 14
07:30 PM LOCAL
Seattle Orcas vs Washington Freedom, 3rd Match
MLC 2023
Grand Prairie Stadium, Texas
Sat, Jul 15
07:30 PM LOCAL
San Francisco Unicorns vs Seattle Orcas, 4th Match
MLC 2023
Grand Prairie Stadium, Texas
Fri, Jul 21
05:30 PM LOCAL
Seattle Orcas vs Texas Super Kings, 10th Match
MLC 2023
Church Street Park, Morrisville
Sun, Jul 23
01:30 PM LOCAL
Los Angeles Knight Riders vs Seattle Orcas, 12th Match
MLC 2023
Church Street Park, Morrisville
Tue, Jul 25
05:30 PM LOCAL
MI New York vs Seattle Orcas, 15th Match
MLC 2023
Church Street Park, Morrisville