FuboTV Live Sports Streaming, Packages & Free Trial
Looking for a hassle-free way to catch all your favorite sports action live? Look no further than FuboTV! With their fantastic range of sports packages and a free trial offer, you'll never miss a game again. Whether you're into cricket, football, basketball, or soccer, FuboTV has got you covered. So why wait? Get in on the action and start streaming live sports today!
How To Watch Live TV on Fubo
To watch live TV on Fubo, you'll need to choose from their streaming packages. Fubo offers different plans with varying channel lineups, so you can select the package that best suits your preferences. Once you've signed up for a package, you can easily access and stream live TV content through the FuboTV app on your preferred device, making it a convenient option for cord-cutters.
Fubo Streaming Packages
Fubo offers several streaming packages to choose from, including the Pro, Elite, Ultimate, and Latino plans. The Pro plan provides access to 166 channels, 10 streams per household, and 1080p quality. The Elite plan offers additional channels and features, while the Ultimate plan includes even more channels and 4K streaming. The Latino plan caters specifically to Spanish-speaking viewers.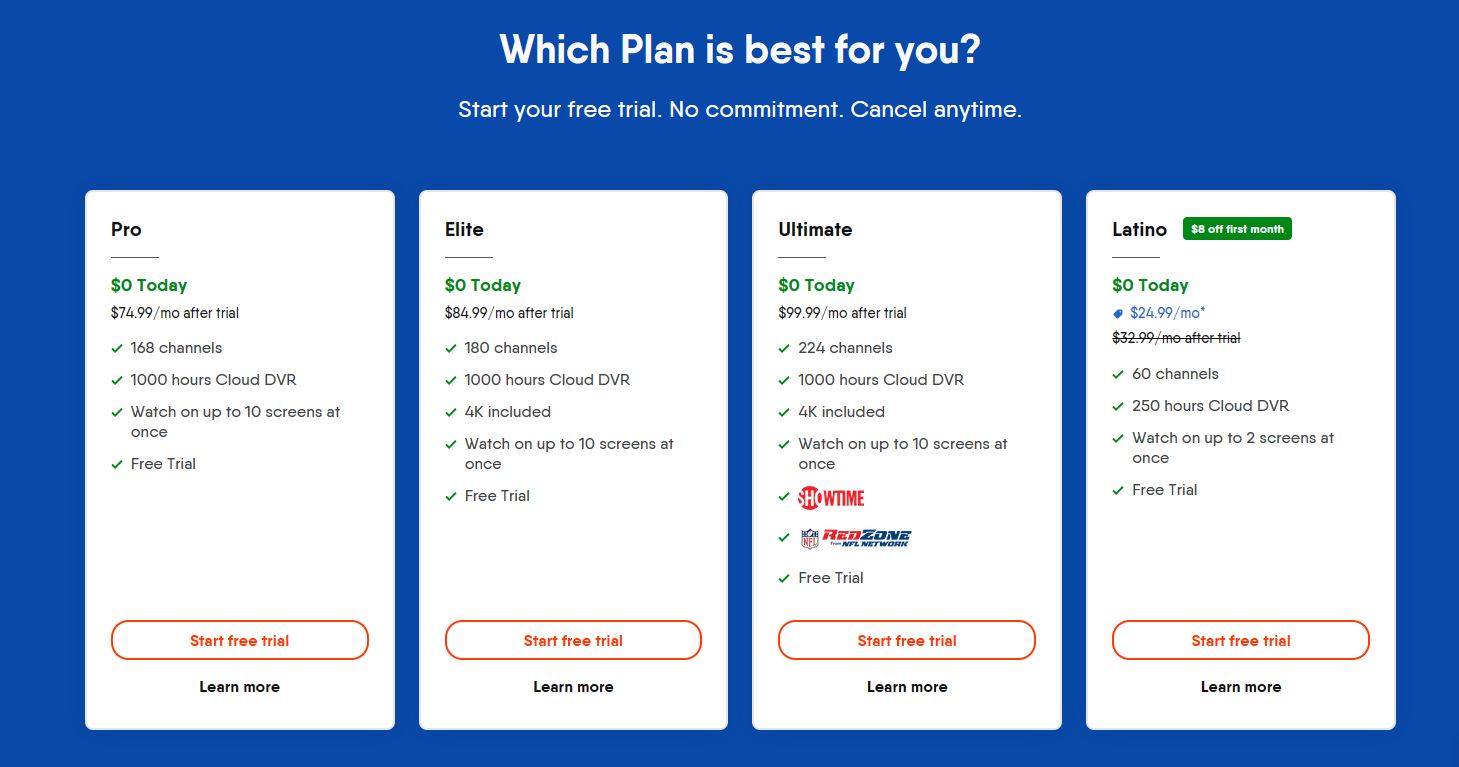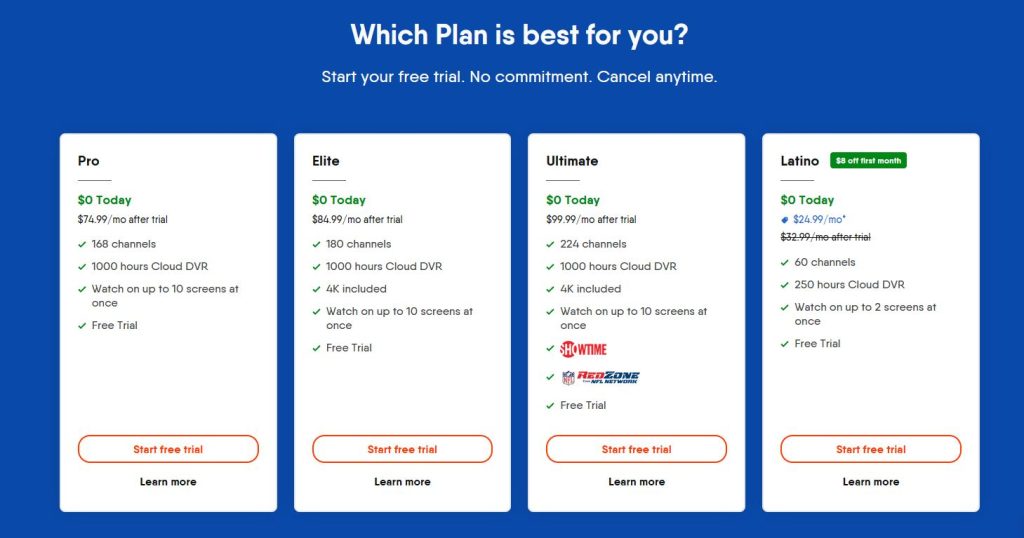 Fubo Pro
If you want to enjoy live TV on Fubo, you can subscribe to Fubo Pro and get access to 168 channels for $75 a month. With Fubo Pro, you'll also have 1,000 hours of cloud-based DVR and the ability to watch on up to 10 screens at home and two away from your home network. Fubo Pro is a great option for those looking for a comprehensive live sports streaming experience. Don't forget to take advantage of the FuboTV free trial to test out the service before committing to the Fubo Pro plan.
Fubo Elite
You can upgrade to Fubo Elite for $85 a month and enjoy over 200 channels, including 130-plus events in 4K, along with the same 1,000 hours of DVR and 10 screens at home and two on the road. Fubo Elite offers a wide range of channels, including those from the Fubo Extra plan and News Plus. With Fubo Elite, you can also access the FuboTV sports package and enjoy unlimited screens. Try the free trial of Fubo today!
Fubo Ultimate Plan
To fully experience the Fubo Ultimate Plan, immerse yourself in over 280 channels and enjoy the convenience of 1,000 hours of cloud-based DVR. This plan, priced at $100 a month, offers a wide range of channels including Fubo Extra and News Plus channels. It also includes Showtime and Sports Plus with NFL RedZone. After the free trial, Fubo TV costs $100 a month, making it a comprehensive and feature-rich option for streaming live sports and entertainment.
Fubo Latino Plan
You can enjoy the Fubo Latino Plan for only $33 a month, and it offers 45 channels of Latino-themed content and a cloud DVR of 250 hours. This plan is a great option for those who want access to a wide range of live TV channels and want to watch their favorite Latino-themed shows and movies. With the Fubo Latino Plan, you can stream your favorite content on multiple devices and never miss a moment of your favorite shows.
FuboTV Key Specs
| | |
| --- | --- |
| Key Features Highlights | Factors To Consider |
| Base Price | $74.99 |
| Free Trial | 7 Days |
| Channels Available | 104 |
| Cloud DVR Hours | 1000 |
| Simultaneous Streams | 10 in home, 3 out of home |
| Ad Free Plan | Not available |
| Regional Sports | Bally Sports, AT&T SportsNet and NBC Sports channels |
| Option To Record | Yes |
FuboTV Pros and Cons
Pros
Base plan offers more channels compared to competitors
Robust collection of sports channels
Allows up to 10 simultaneous streams per household
Clean and easy-to-navigate interface
Ability to schedule shows for automatic recording
User profiles for personalized settings
Includes local programming in channel lineup
Comes with 1000 hours of cloud DVR storage
Cons
Short trial period lacking transparency about billing
Numerous ads, even for on-demand programs
Lacks original content
Higher pricing compared to other live TV streaming services
Fubo TV vs. Hulu Live TV
When comparing fuboTV and Hulu Live TV, it's important to consider their respective features, packages, and free trial options. Fubo TV offers 175+ live channels, while Hulu Live TV provides 85+ channels for streaming.
FuboTV is known for its extensive sports coverage, making it an attractive option for sports enthusiasts. With partnerships with local NBC, ABC, Fox, and CBS affiliates, it offers a wide range of sports channels, including international sports and exclusive networks like beIN sports and The Olympic Channel.
On the other hand, Hulu + Live TV offers a well-rounded package with a good channel lineup and free access to Hulu's library of on-demand content. It also provides options to upgrade DVR and simultaneous streams, as well as access to cable news channels. However, it is limited to streaming on two devices by default and has a lower DVR storage capacity.
Fubo TV offers the free trial before making the commitment while with Hulu + Live TV you need to take a risk and then see for a month if it meets your expectations. Ultimately, the choice between fuboTV and Hulu Live TV depends on individual preferences, needs, and the importance placed on live sports streaming.
Below is our breakdown of Fubo TV Pro vs Hulu + Live TV base plan.
| | | |
| --- | --- | --- |
| | Fubo TV | Hulu + Live TV |
| Plan | Pro Plan | Base Plan |
| Live Channels | 175+ | 85+ |
| Monthly Price | $74.99 | $69.99 |
| Hours of DVR Storage | 1000 Hours | Unlimited but expires |
| Free Trial | Yes | No |
| Multiple Active Streams | Upto 10 | Up to 2 |
| Regional Sports Networks | Yes | Yes |
| Streaming from any device | Enabled | Enabled |
How To Claim Fubo TV Free Trial?
If you're interested in trying out Fubo TV, you can easily claim a free trial by visiting their website and clicking on the orange 'Start Free Trial' button. Fubo TV offers four different plans, all of which come with a free trial period.
To sign up for the free trial, simply create an account by entering your credentials on the Fubo TV website.
From there, you can choose the plan and any additional add-ons that you're interested in.
After entering your payment information, you will have access to Fubo TV for seven days without being charged.
During the free trial, you'll be able to enjoy live streaming of your favorite shows and sports, including cricket matches through Fubo TV's extensive channel lineup.
Additionally, you can test out Fubo TV's DVR Cloud Storage and have full access to the package you selected.
It's a great opportunity to see if Fubo TV meets your streaming needs before committing to a subscription. So why not give it a try and enjoy Fubo TV for free?
Fubo TV Sports Package (Add-ons)
If you're looking to enhance your sports viewing experience, Fubo TV offers a variety of add-ons to choose from. These add-ons include Sports Plus, which provides access to NFL RedZone, NBA TV, NHL Network, MLB Network, and more. Additionally, there are options like International Sports Plus, Adventure Plus, and Sports Lite, each catering to specific interests and preferences.
| | |
| --- | --- |
| Add-on | Price |
| Sports Plus with NFL RedZone | $10.99/mo. |
| Sports Lite | $9.99/mo. |
| International Sports Plus | $6.99/mo. |
| Adventure Plus | $4.99/mo. |
| MLB.TV | $24.99/mo. |
| NBA League Pass | $14.99/mo. |
How to Watch Sports on fuboTV
To watch sports on fuboTV, simply navigate to the sports menu tab where you can easily find and stream live games and explore upcoming events. fuboTV offers a convenient way to enjoy live sports streaming. With a dedicated sports menu, you can access a wide range of live games and events at your fingertips. Whether you're a fan of cricket, football, basketball, soccer, or any other sport, fuboTV has you covered. The streaming service allows you to browse schedules, view league content, and even use the Game Finder tool to find upcoming games.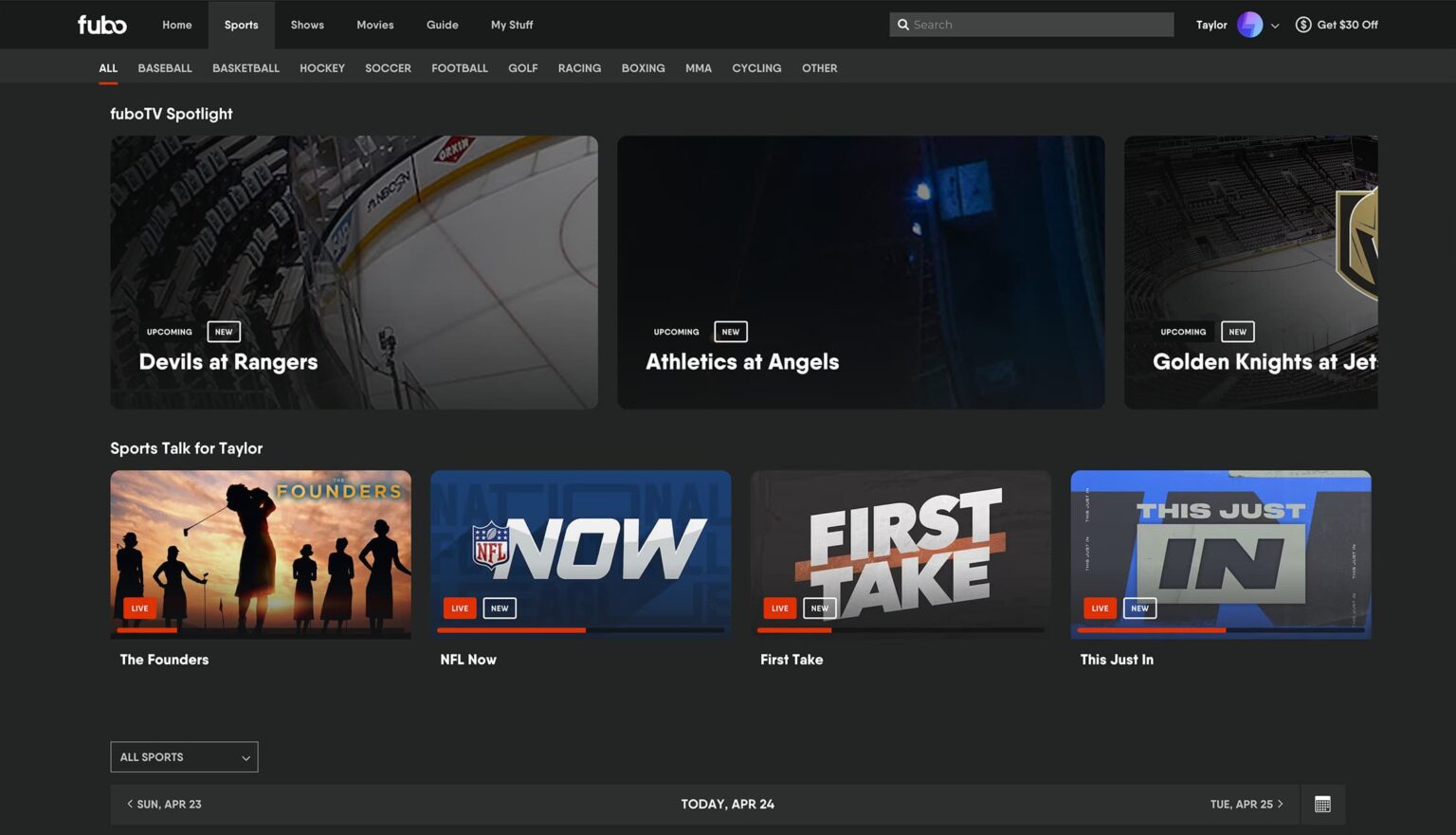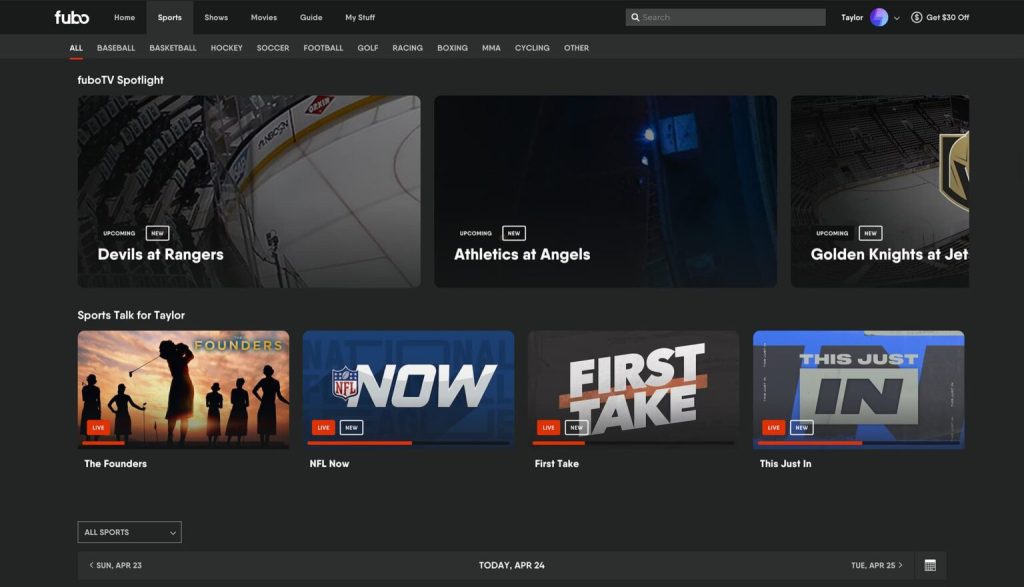 What devices can I watch Fubo on?
You can watch Fubo on a variety of devices, including Amazon Fire TV, Android TV, Apple TV, Android phones, Roku, Xbox, Smart TVs, iOS/iPad OS, and web browsers. With Fubo TV, you have the flexibility to stream your favorite live sports and shows on multiple devices, ensuring that you never miss a moment of the action. Whether you prefer watching on your big-screen TV, smartphone, tablet, or computer, Fubo has got you covered.
For those who own Smart TVs, Fubo is compatible with models from various brands, including Vizio, Samsung, LG, and Hisense. And if you prefer using your iOS device or web browser, Fubo TV can be accessed on iOS/iPad OS devices and popular browsers like Chrome, Microsoft Edge, Firefox, and Safari.