How to Watch Paramount Plus Live TV [Complete Guide]
Get ready to level up your sports streaming experience with Paramount Plus! With its live TV sports schedule, free trial, and flexible plans, Paramount Plus is the ultimate destination for sports enthusiasts like you. Whether you're a die-hard fan of football, basketball, or any other sport, Paramount Plus has got you covered. From exclusive live coverage to on-demand replays, you'll never miss a moment of the action. So grab your popcorn and get ready to cheer on your favorite teams with Paramount Plus!
How Much Does Paramount Plus Cost?
Wondering about the cost of Paramount Plus? Well, there are two plans to choose from. The Essential plan, which includes ads, is $5.99 a month, while the Premium plan, without ads for most on-demand content, is $11.99 a month. You can also opt for an annual subscription and save about 25% compared to the monthly plan. So, which plan suits your needs and budget? Let's discuss the Paramount+ Essential Plan and the Paramount+ Premium Plan.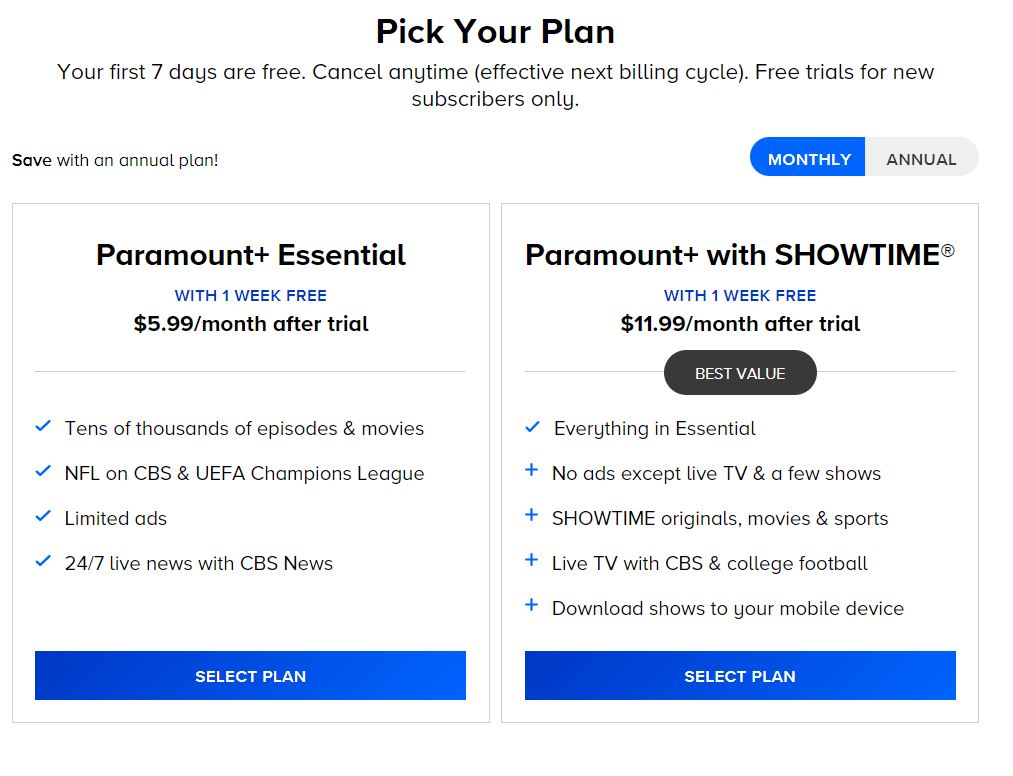 Paramount+ Essential Plan
The Paramount+ Essential Plan is perfect for those who want to save some money, as it is priced at just $6 per month. With this plan, you'll have access to the entire library of Paramount+, which means you can enjoy a wide range of shows and movies. With this plan you will not get the access to local live CBS station. However, it's important to note that there will be some ads while you stream. So, if you don't mind a few commercial breaks, this plan is a great option for you. Plus, you'll also get access to Paramount Plus live TV and sports, so you won't miss out on any of the action. And if you're still unsure, you can try out Paramount Plus with their free trial before committing to a plan.
Paramount+ With Showtime plan
If you're considering the Paramount+ With Showtime plan, you'll have access to the same content as the Essential plan without any annoying advertisements. However, you won't be able to skip the ads when watching live TV. It's a trade-off you'll have to make if you want the additional Showtime content.
It is highly advisable to take advantage of the free trial to see if the paramount+ showtime plan fulfills your expectations before committing to an annual plan to save more money.
With the Paramount+ subscription, you'll also have access to a variety of sports content. Whether you're into football, basketball, or soccer, Paramount+ has you covered with its live TV sports schedule. So, if you're a sports enthusiast looking for an all-in-one streaming platform, the Paramount+ With Showtime plan might be the perfect fit for you.
Paramount+ vs. Competitors
Paramount Plus has several key reasons why one should consider it over other streaming services:
Wide Variety of Content: Paramount+ offers a diverse range of content, including exclusive originals from popular family-friendly channels like Nickelodeon, original shows from the Paramount network, and a vast collection of classic Paramount movies. This wide variety ensures there is something for everyone in the family.
Access to CBS Shows: Paramount+ is the only streaming service that provides access to nearly every CBS show. If you're a fan of shows like NCIS, The Neighborhood, or Frasier and want to watch full seasons, Paramount+ is the perfect choice.
Affordable Pricing: Paramount+ offers competitive pricing compared to other streaming services. Plans start at $6 per month, which is more affordable than basic subscriptions to Hulu, Netflix, or Disney+. Additionally, the service provides a 7-day free trial to get started, making it a cost-effective option.
Student Discount and Bundling Options: Paramount+ offers a 25% discount on the Essential plan for students, making it an attractive option for students on a budget. Additionally, the service allows bundling with Showtime for only $12 per month, offering even more value for money.
Versatility: Paramount+ stands out with its versatility. It not only provides access to exclusive content like Star Trek: Picard and Champions League soccer but also offers live sports coverage, including NFL, Masters, Serie A, National Women's Soccer League, and more. This makes it a great choice for sports enthusiasts.
| | | | | |
| --- | --- | --- | --- | --- |
| | Paramount+ | Hulu | Netflix | Disney Plus |
| Starting monthly price | $6/mo. | $8/mo. | $7/mo. | $8/mo. |
| Free trial length | 7 days | 30 days | N/A | N/A |
| On-demand titles (Yes/No) | Yes | Yes | Yes | Yes |
| Live TV (Yes/No) | Yes | Yes | No | No |
| Offline downloads | Yes | Yes | Yes | Yes |
CHECK: FuboTV Live Sports Streaming, Packages & Free Trial
How to Sign Up for Paramount+
To start streaming Paramount, simply visit their website and click on the 'Sign Up for Paramount+' button to begin the registration process. It's quick and easy to get started with Paramount Plus. Once you're on the Sign Up page, just click 'Sign Up for Paramount+' and then 'Continue' to create your account. You'll need to enter your full name, email address, and choose a password. Remember, your email and password will be your login credentials for Paramount Plus.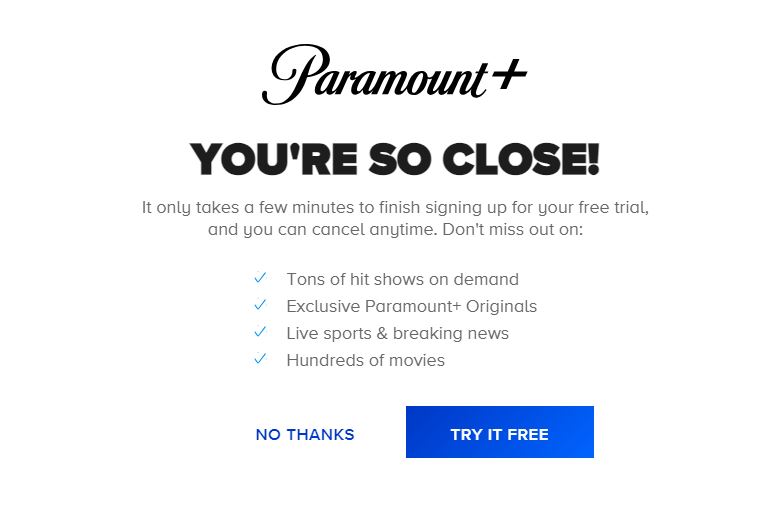 After you've signed up, you'll be prompted to enter your payment information and then you can start enjoying everything Paramount Plus has to offer. With Paramount Plus, you'll have access to a wide range of live TV channels, including sports. You can check out the Paramount Plus live TV guide to see what's currently playing and plan your viewing accordingly.
Getting Paramount Plus not only gives you access to live TV, but also a vast library of on-demand content, including movies, TV shows, and exclusive Paramount Plus originals. So, whether you're a sports fan or just looking for great entertainment options, signing up for Paramount Plus is a great choice.
Paramount Plus Key Specs
| | |
| --- | --- |
| Key Features Highlights | Factors To Consider |
| Base Price | $5.99 |
| Free Trial | Yes |
| Simultaneous Streams | 3 |
| DVR Storage | No |
| Live TV Streaming | Yes |
| Ad Free Plan | Yes |
| Option To Record | No |
| Sports Live Coverage | International & National Sports Available |
Paramount+ Pros and Cons
Pros
Extensive on-demand catalog with a variety of Viacom properties
Early access to Paramount movies in theaters
Convenient download function for offline viewing
Multiple user profiles and cross-device viewing
Option to upgrade to an ad-free experience
Algorithmic selections for personalized recommendations
Competitive pricing compared to other streaming services
Cons
Missing watchlist feature
Paramount+ original series rely heavily on existing ViacomCBS properties
Limited upside for those not interested in CBS, Nickelodeon, MTV, or Comedy Central content
Limited customer support availability
What You Can Watch on Paramount+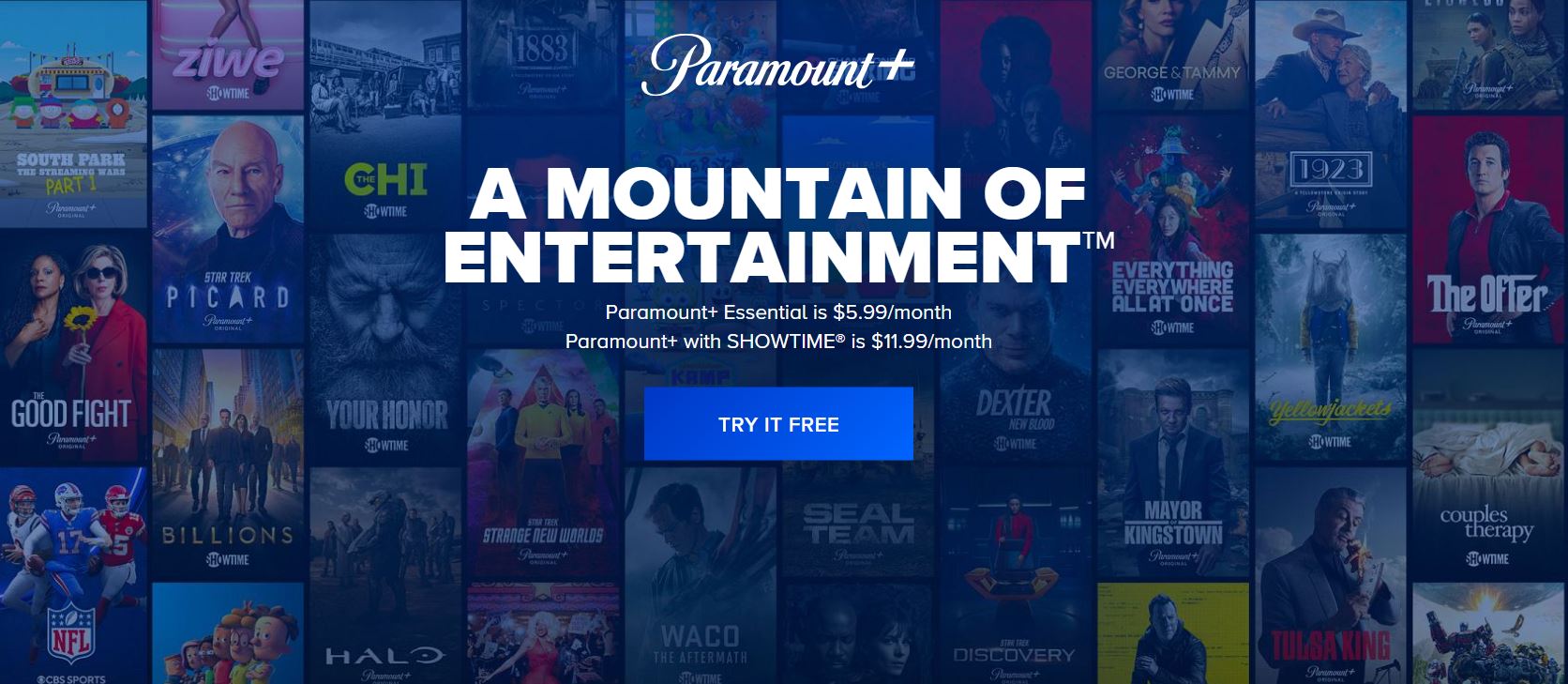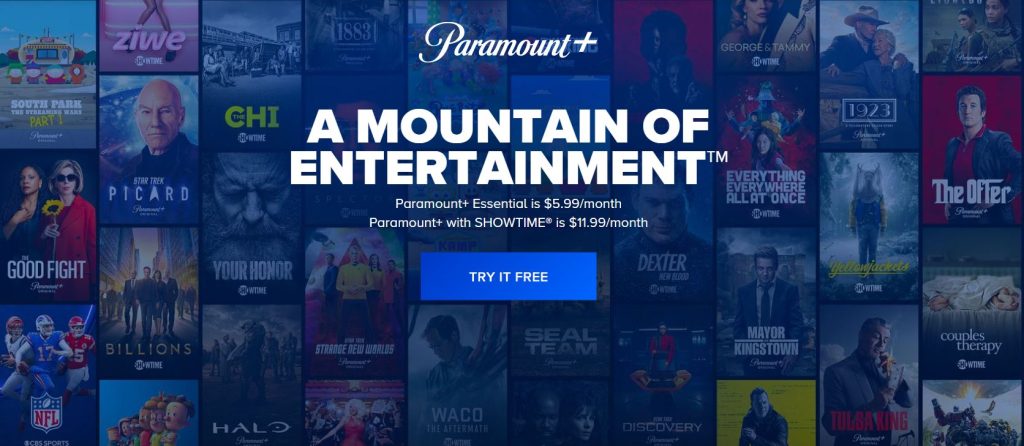 Paramount+ offers a wide range of content that caters to different interests and preferences. With a strong library of on-demand content, you can enjoy a variety of shows and films. One of the highlights of Paramount+ is its extensive collection of CBS and Viacom content, which includes popular shows like NCIS and SpongeBob SquarePants. The film selection is also impressive, featuring classics like The Godfather.
While the on-demand movie library may not be as extensive as Netflix's, it still offers a solid selection of films from the ViacomCBS/Paramount family. You can expect high-quality movies that cater to different genres and tastes.
In addition to on-demand content, Paramount+ also provides live TV options. It allows you to livestream your local CBS station, giving you access to live shows and events. This feature adds to the overall experience, making you feel more connected to current programming.
For sports enthusiasts, Paramount+ offers a great selection of live sports content. Along with NFL games and March Madness livestreams available on regular CBS, Paramount+ provides additional sports coverage, including Europa League soccer matches. This makes it an excellent choice for sports streaming, enhancing its credibility in the sports streaming space.
Furthermore, Paramount+ includes live news content, keeping you up to date with the latest happenings around the world. This adds value to the service, ensuring that you have access to both entertainment and informative content.
Overall, Paramount+ offers a compelling package of on-demand content, live TV, live sports, and news. Whether you're a fan of popular TV shows, movies, sports, or news, Paramount+ caters to a wide range of interests. With its extensive library and additional live TV options, it provides a well-rounded streaming experience. If you're looking for a streaming service that offers a diverse range of content and value for your money, Paramount+ is definitely worth considering.
Watching Live Sports on Paramount+
Catch all the thrilling live sports action on Paramount+ with options ranging from soccer matches to NFL games. Paramount+ offers a wide variety of sports coverage, making it a tempting offer for sports enthusiasts.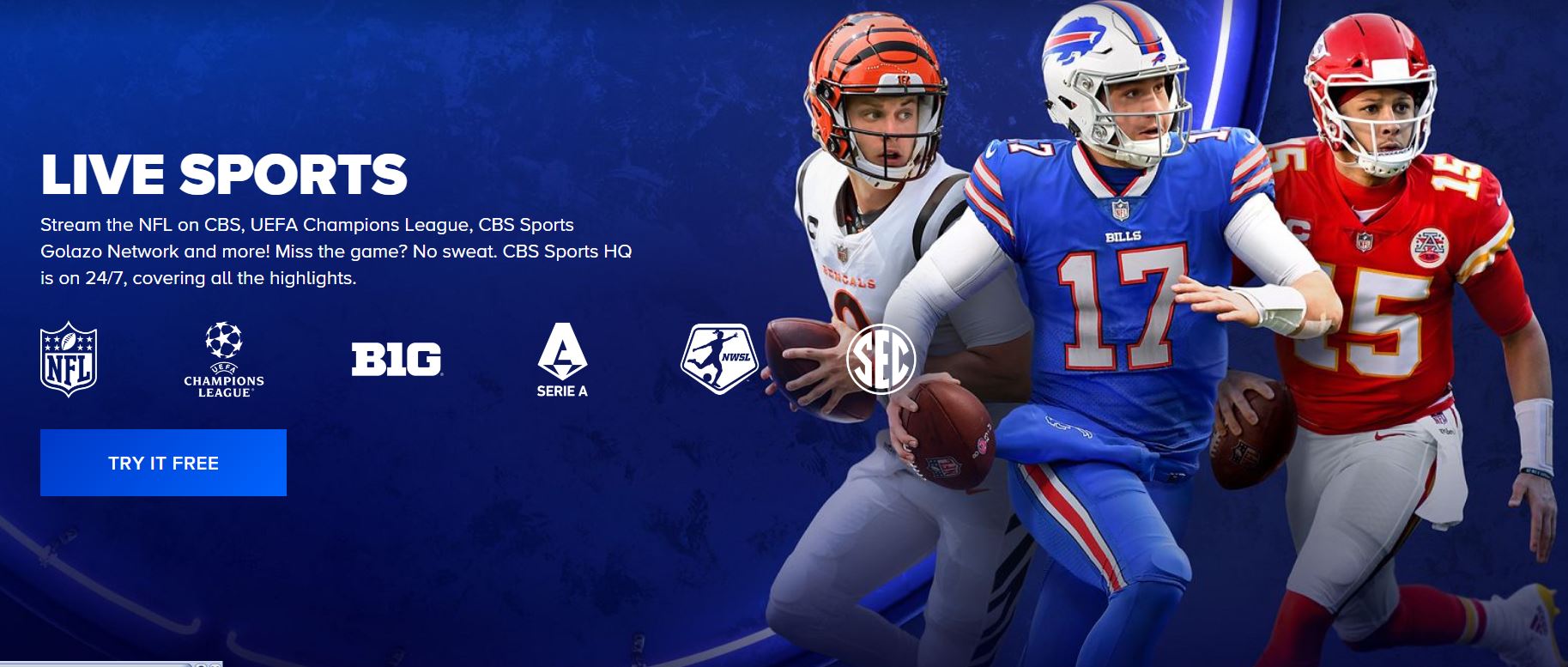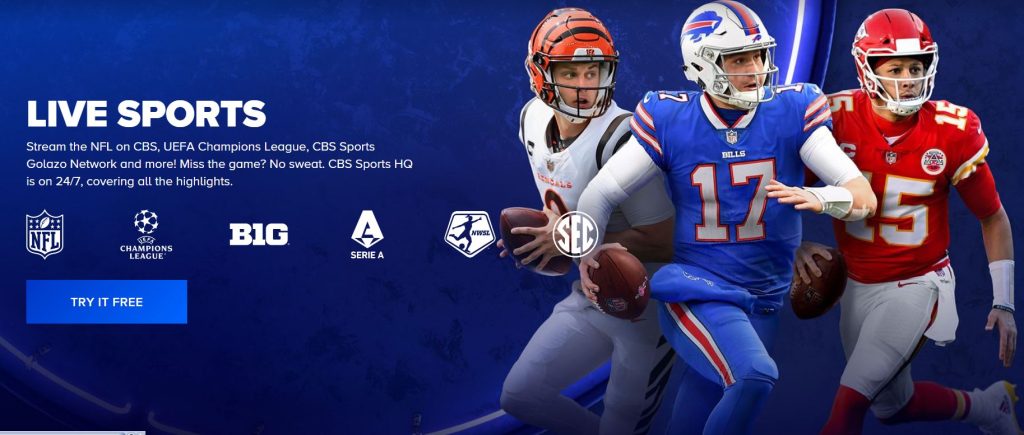 Soccer fans will be excited to know that Paramount+ has exclusive rights to every UEFA Champions League game, along with coverage of other leagues and competitions such as the Scottish Professional Football League, Serie A, AFC Asian Qualifiers, and more.
If football is your passion, you can enjoy live streams of NFL games every Sunday and college football coverage provided by CBS.
Basketball fans can also watch college basketball coverage, including the annual NCAA men's March Madness tournament.
Golf enthusiasts can stream PGA Golf Tour events, including rounds of the Masters and PGA Championship. Paramount+ even offers niche sports coverage like Bellator MMA, Combat MMA, Big 3 Basketball, and World Series of Poker Bracelet events.
With so many options, you can satisfy your sports cravings on Paramount+. Don't miss out on the action and start watching live sports on Paramount+ today.
How to Watch Paramount Plus in India
If you want to access Paramount Plus in India, you can do so by using a reliable VPN like ExpressVPN. Paramount Plus is not currently available in India, but with a VPN, you can bypass the geo-restrictions and enjoy all the content it has to offer. Global Paramount Plus is expected to launch in India this year in partnership with Viacom18, but there is no confirmed date yet. In the meantime, using Paramount+ India with a VPN is the best way to watch your favorite shows and movies.
Paramount Plus offers different plans, including a free trial for new subscribers. You can choose the plan that suits your needs and enjoy unlimited streaming of movies, TV shows, and live sports. So don't let the geo-restrictions stop you from enjoying Paramount Plus in India. Get a VPN and start streaming today!
CHECK: How to Watch Star India Channels In USA
How To Fix Paramount Plus Error Codes
Experiencing error codes while using Paramount Plus? Don't worry, we've got you covered. Here's how to fix the most common ones: Error Code 4200 can be resolved by clearing your browser cache, Error Code 3005 can be fixed by updating your app or software, and Error Code 3304 can be resolved by checking your internet connection and restarting your device.
Paramount Plus Error Code 4200
If you're experiencing Paramount Plus Error Code 4200, there are troubleshooting steps you can take to resolve the issue. This error typically occurs when there is a playback error preventing the content from loading or streaming properly.
To fix this, start by checking your internet connection and ensuring that it is stable and fast.
You can also try updating your streaming device and clearing the cache and cookies to improve performance.
Restarting the app and verifying your account status can also help resolve the error.
If the problem persists, try streaming on a different device and consider disabling any VPN or proxy settings temporarily.
By following these steps, you should be able to resolve the Paramount Plus Error Code 4200 and enjoy uninterrupted streaming of your favorite content on Paramount Plus.
Paramount Plus Error Code 3005
To fix Paramount Plus Error Code 3005, try restarting your device and checking your internet connection. This error code indicates a playback issue on the streaming site, causing buffering and lag during your viewing experience. Possible causes include an unstable internet connection, using an outdated app or browser, or Paramount Plus server issues.
Below are the steps you can take to resolve paramount plus error code 3005 in 2 minutes.
Click on the OK button to go back to the previous page and try playing your video again.
Additionally, close and reopen the app to refresh it and eliminate any errors.
Check the Paramount Plus server status on their official help page, and if their servers are down, wait until they're back up.
Lastly, ensure your internet connection is properly connected and contact your service provider if needed.
Don't miss out on the live football on Paramount Plus, and take advantage of the free trial and plans available for Paramount Plus with its wide-ranging live TV sports schedule.
Paramount Plus Error Code 3304
While streaming the content, I had received the Paramount Plus Error Code 3304 and with a bit of trial and testing the error was finally fixed.
Below are the steps I took to get rid of this annoying error.
First, try disabling hardware acceleration and ad blockers in your browser settings.
Additionally, make sure your browser is up to date with the latest version.
If these methods don't work, check your internet connection, restart your router and modem, and sign out and back into your Paramount account.
If the problem persists, don't hesitate to contact customer support for further assistance.
For my case, disabling hardware acceleration did the magic and I was able to continue my favorite shows from where i left off.
Paramount Plus Supported Devices
Paramount Plus supports a wide range of devices, allowing you to effortlessly stream your favorite content. Whether you're a football fanatic or simply looking for a free trial, Paramount Plus has you covered. With its extensive list of supported devices, you can enjoy live football on Paramount Plus wherever you go.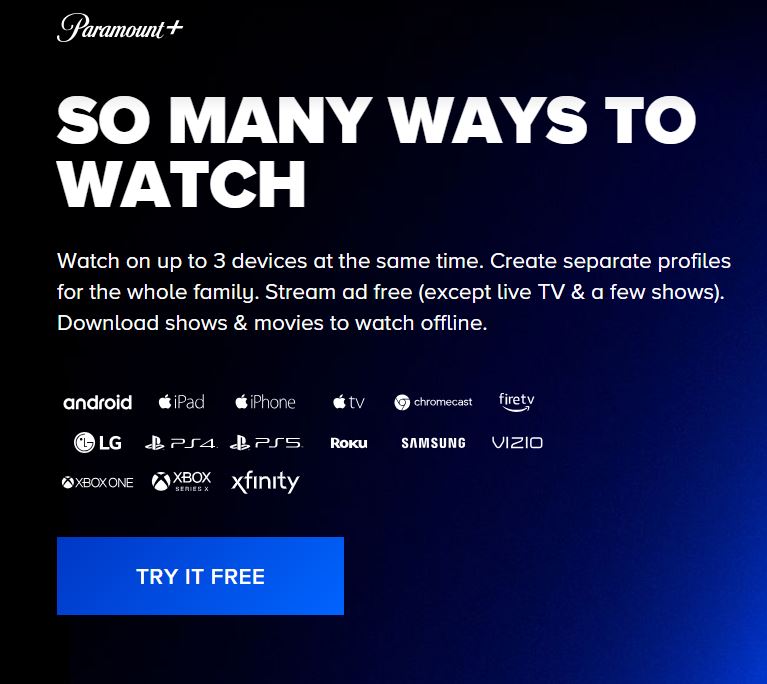 If you're an Android user, you'll be pleased to know that Paramount Plus is compatible with Android TV. This means you can watch all the live football action on your Android TV device without any hassle. And if you're on the go, you can also stream Paramount Plus on your Android smartphone or tablet.
But the device compatibility doesn't stop there. Paramount Plus is available on Apple TV, Apple iPhone, and Apple iPad, so Apple users can also join in on the fun. If you prefer streaming on a big screen, you can use Google Chromecast, Amazon Fire TV, Samsung TV, LG TV, Roku, or even gaming consoles like PlayStation and Xbox.