How to Watch Asia Cup 2023 Live Streaming in New Zealand
Asia Cup 2023 is just around the corner and you don't want to miss a single over. Whether you're a die-hard fan or new to the game, we've got you covered. This guide will show you how to access Asia Cup 2023 live streaming in New Zealand. Get ready to catch every thrilling moment, right from the comfort of your home. Let's dive in!
Asia Cup 2023 Summary
This is the 16th edition of the popular cricket tournament, set to unfold between August and September as per the Asia Cup 2023 Schedule announced by the PCB. The event will be co-hosted by Pakistan and Sri Lanka, with 13 matches scheduled in total. You'll find 4 of these matches taking place in Pakistan, while the remaining 9 will be hosted in Sri Lanka. The Pakistan Cricket Board (PCB), as the host nation, will retain all the ticket sales revenue from both countries and they have already announced the complete Asia Cup 2023 tickets process and the ticket booking is currently live on Bookme platform.
| | |
| --- | --- |
| Date | 30 August 2023 – 17 September 2023 |
| Administrator(s) | Asian Cricket Council |
| Cricket format | One Day International (ODI) |
| Host(s) | Pakistan, Sri Lanka |
| Participants | 6 |
Asia Cup 2023 Live Streaming in New Zealand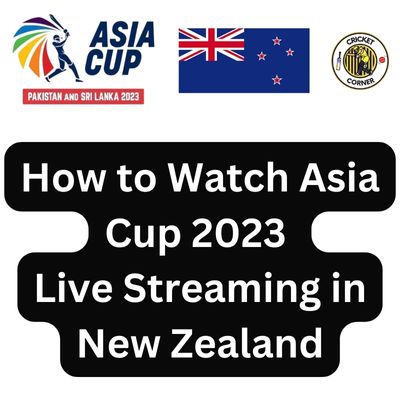 Sky Sports is the official broadcaster for the upcoming cricket matches in 2023, and you can catch all the action right here in NZ. If you're eager to watch Asia Cup in New Zealand, you're covered. You can enjoy Asia Cup live streaming in New Zealand through Sky Go and ESPN apps, available to all Sky Sports subscribers. These apps offer you the flexibility to watch the games anywhere, anytime.
If you're not a subscriber yet, don't worry. Sky Sports provides several packages to choose from. The main package is Sky Starter, priced at USD 25.99/month, which is required to access all other packages. You can add Sky Sports to your existing Sky subscription for an additional USD 37.99/month. For those who love entertainment alongside sports, the Sky Entertainment package is available at USD 25.50/month. Movie buffs can opt for the Sky Movies package at USD 20.93/month.
If you're only interested in sports and want instant access without the need for a Sky Box, there's a solution for that too. You can opt for a Week, Month, or Annual pass priced at $19.99, $44.99 and $449.99 respectively. You can enjoy live streaming Asia Cup in New Zealand on your selected Smart TVs, tablets or mobiles. Best of all, you can cancel anytime. So gear up for the Asia Cup 2023, and don't miss a single ball!
| | |
| --- | --- |
| Package Name | Price (USD) |
| Sky Starter | $25.99 |
| Sky Entertainment | $25.50 |
| Sky Sport | $37.99 |
| Sky Movies | $20.93 |
Watch Asia Cup 2023 in New Zealand Free
If you're looking for a cost-free way to catch the cricket action in 2023, Crictime and the Live Cricket HD app on Playstore are worth checking out. These platforms are the go-to options when you're wondering where to watch Asia Cup cricket in New Zealand without shelling out a fortune.
Crictime is a streaming platform that prides itself on providing coverage of almost all International cricket events in HD quality. No matter where you are in New Zealand, as long as you have a reliable internet connection, you can watch cricket live on Crictime. It's user-friendly, so you won't have any trouble navigating through the site to find the matches you're interested in.
On the other hand, if you're using an Android Smart TV, the Live Cricket HD app on Playstore can be your best bet. It's a downloadable app that gives you instant access to live streaming of the Asia Cup in New Zealand. Just like Crictime, it offers high-quality streaming, ensuring you don't miss any detail of the game.
However, if you're willing to spend a bit, Sky Sports On Demand NZ is an excellent choice. It provides top-notch coverage of the Asia Cup and many other sporting events. The comfort of having a dedicated sports channel with uninterrupted, high-quality coverage can be worth the cost.
Asia Cup ODI Winners List
The last ODI Asia Cup took place in 2018, with India emerging victorious under the leadership of Rohit Sharma. India & Sri Lanka are 2 teams who had the best record at the Asia Cup tournament and this year the same trend is expected to follow as team India again looking a formidable lineup with experienced players like Virat, Sharma, Bumrah & Jadeja ready to showcase their amazing talent while team Sri Lanka has the home advantage which can work in their favor a great deal.
| | | |
| --- | --- | --- |
| Season | Format | Champion |
| 1984 | ODI | India |
| 1986 | ODI | Sri Lanka |
| 1988 | ODI | India |
| 1990 | ODI | India |
| 1995 | ODI | India |
| 1997 | ODI | Sri Lanka |
| 2000 | ODI | Pakistan |
| 2004 | ODI | Sri Lanka |
| 2008 | ODI | Sri Lanka |
| 2010 | ODI | India |
| 2012 | ODI | Pakistan |
| 2014 | ODI | Sri Lanka |
| 2018 | ODI | India |