How to Watch Asia Cup 2023 Live Streaming in South Africa
Like a cricket ball in the hands of a pro bowler, you're ready for action. Asia Cup 2023 is coming and you don't want to miss a single thrilling moment, do you? Whether you're in Cape Town or Johannesburg, we've got the secrets you need to enjoy Asia Cup 2023 Live Streaming. So, let's not waste any more time. Strap in, South Africa, we're about to dive into how you can catch all the Asia Cup 2023 action live!
Asia Cup 2023 Summary
Finally, the Asia Cup 2023, set to be held in Pakistan and Sri Lanka, is a significant event with a total of 13 matches, following a round-robin and knockout format. This tournament is a thrilling opportunity for cricket fans worldwide to witness the top Asian teams compete against each other in a bid to clinch the coveted trophy.
Now, let's dive into the Asia Cup 2023 summary. The participating nations are divided into two groups, each comprising three teams. The top two teams from each group, after a series of six intense matches, will advance to the Super Four round. The excitement doesn't stop there, as another six rip-roaring games await in the Super Four round. Each team will play three matches against the remaining teams, creating a nail-biting suspense for fans and players alike.
The top two teams from the Super Six will have the honor of advancing to the grand finale. This final match will determine the ultimate champions of the Asia Cup 2023. But don't worry if you're in South Africa and wondering how to watch Asia Cup live streaming in South Africa. Numerous broadcasting platforms will ensure you don't miss a single moment of this cricketing spectacle.
| | |
| --- | --- |
| Date | 30 August 2023 – 17 September 2023 |
| Administrator(s) | Asian Cricket Council |
| Cricket format | One Day International (ODI) |
| Host(s) | Pakistan, Sri Lanka |
| Participants | 6 |
Asia Cup 2023 Live Streaming in South Africa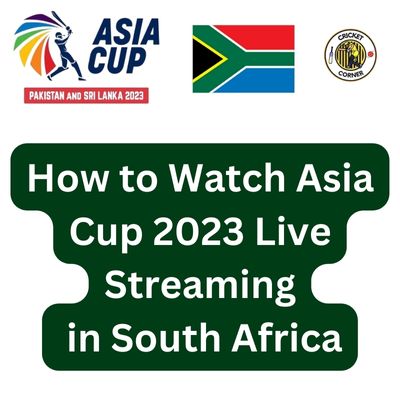 It's through the DStv app that cricket enthusiasts can catch every match of the 2023 tournament. The thrill of watching Asia Cup cricket live streaming in South Africa is a heartbeat away, thanks to SuperSport, the official broadcaster. However, the live streaming is exclusively available on the DStv app. This means when you're itching to see your favorite teams in action, you'll be redirected to the DStv app from the SuperSport App.
Now, if you're wondering how to watch Asia Cup 2023 live streaming in South Africa, there's a specific route to follow. DStv offers six packages, but to get the SuperSport Cricket channel, you'll need the DStv Premium package. At R879, it might seem steep, but the adrenaline rush of each boundary, the nail-biting tension of each ball, and the elation of every wicket is priceless!
Remember, it's not just cricket you're signing up for. The DStv Premium subscription offers a slew of sports channels, from football to tennis, motorsports to golf, and even WWE. Imagine, all your sports passions in one place!
Below are the dstv packages which are currently offered by the company. DStv Premium is the package you need to subscribe in order to watch asia cup cricket live streaming in south africa.
| | |
| --- | --- |
| Package | Price |
| DStv Easyview | R29 |
| DStv Access | R129 |
| DStv Family | R319 |
| DStv Compact | R449 |
| DStv Compact Plus | R579 |
| DStv Premium (Asia Cup Live) | R879 |
Free Asia Cup 2023 Live Streaming
Cricket lovers can access the 2023 tournament at no cost through various online platforms. A particular favorite for live cricket streaming Asia Cup in South Africa is Crictime. This platform allows you to watch Asia Cup live on Crictime, ensuring you don't miss a moment of the thrilling action. You'll be right there with the teams as they battle it out for the prestigious Asia Cup.
Crictime live cricket streaming Asia Cup has become a go-to for many fans. Its seamless streaming and high-quality coverage make it a top choice for cricket enthusiasts. It's easy to use, too. All you need to do is head to the Crictime homepage and click on the match banner to be instantly transported to the live coverage of the Asia Cup.
The excitement doesn't end with the live matches. Crictime also features pre and post-match discussions, bringing you closer to the game. You can hear expert panel predictions, giving you insights into what may unfold during the matches. It's like having VIP access to the game from the comfort of your own home.
Asia Cup Winners List
Given your interest in cricket, you'd likely be fascinated by the list of previous winners of the renowned tournament. The Asia Cup, first played in 1984, has a rich history of thrilling matches and legendary players. When looking at the Asia Cup winners list, you'll find that India tops the chart with seven titles to their name.
In 1984, the inaugural championship held in Sharjah, UAE, saw India grabbing the crown. Since then, they have repeated the feat in 1988, 1990, 1995, 2010, 2016, and 2018, showcasing their dominance in the Asia Cup. Sri Lanka, not far behind, has clinched the title five times, while Pakistan has tasted victory twice.
| | | |
| --- | --- | --- |
| Season | Format | Champion |
| 1984 | ODI | India |
| 1986 | ODI | Sri Lanka |
| 1988 | ODI | India |
| 1990 | ODI | India |
| 1995 | ODI | India |
| 1997 | ODI | Sri Lanka |
| 2000 | ODI | Pakistan |
| 2004 | ODI | Sri Lanka |
| 2008 | ODI | Sri Lanka |
| 2010 | ODI | India |
| 2012 | ODI | Pakistan |
| 2014 | ODI | Sri Lanka |
| 2016 | T20I | India |
| 2018 | ODI | India |
| 2022 | T20I | Sri Lanka |