How to Watch Asia Cup 2023 Live Streaming in Bangladesh
Have you been eagerly waiting to catch all the thrilling action of the Asia Cup 2023 live in Bangladesh? Well, your wait is finally over! In this article, we will guide you on how to watch the Asia Cup 2023 live streaming in Bangladesh. Get ready to witness the exhilarating clashes between the top cricket teams as they battle it out for the ultimate glory. So, grab your snacks, settle into your favorite spot, and get ready to experience the cricket extravaganza like never before.
Asia Cup 2023 Summary
You're probably eager to get a quick rundown of the Asia Cup 2023, aren't you? This much-anticipated cricket tournament is slated to kick off on August 30th, with Bangladesh being one of the participating teams. They'll be traveling to Pakistan, locking horns with Sri Lanka and Afghanistan. It's noteworthy that this edition will see the Asia Cup hosted in two countries – Pakistan and Sri Lanka – for the first time ever.
In terms of ticket sales revenue, it's interesting to note that PCB (Pakistan Cricket Board) being the primary host country will retain all proceeds. For those based in Pakistan wishing to experience the game firsthand at Lahore's stadium, tickets can be purchased from Bookme platform which is the official ticketing partner for this 16th edition of Asia Cup.
| | |
| --- | --- |
| Particulars | Details |
| Tournament | Asia Cup 2023 |
| Organized by | Asian Cricket Council |
| Current Edition | 16th |
| Last Winner | Sri Lanka |
| Last Runner-up | Pakistan |
| Start Date (Opening Match) | 30 August 2023, Wednesday |
| End Date (Final Match) | 17 September 2023, Sunday |
| Matches | 13 Match |
| No. of Teams | 6 |
| Teams | India, Pakistan, Sri Lanka, Afghanistan, Bangladesh, and Nepal |
| No. of Venues | 4 |
Asia Cup 2023 Live Streaming in Bangladesh
You're about to delve into the diverse platforms available for live streaming of the Asia Cup 2023 in Bangladesh. You'll discover how Rabbitholebd offers a seamless Asia Cup live stream experience, along with Gazi TV, a popular choice among local enthusiasts. We'll also discuss Daraz Live, Toffee and Hotstar India – three other prominent options that you can consider to catch all the cricket action live.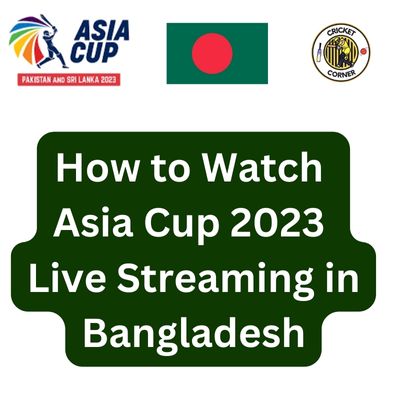 Gazi TV
You can watch Gazi TV live on its television and digital platforms to catch all 13 matches of the Asia Cup 2023 in Bangladesh. Gazi TV, the official broadcaster of the tournament, will be airing the matches on its free-to-air national media broadcasting network. To access Gazi TV, you can tune in to the channel on cable or satellite networks. Additionally, Gazi Tv Live, the digital platform of Gazi TV, offers live streaming of the matches on its website, application, and YouTube channel. With Gazi Tv Live, you can enjoy the thrilling action of the Asia Cup 2023 from the comfort of your own home. So, don't miss out on the excitement and tune in to Gazi TV for live coverage of the tournament.
Gazi TV Frequency Details
To watch Asia Cup 2023 live in Bangladesh, you'll need to set your satellite to Bangabandhu 1 119.1°E with a frequency of 4625 H for Gazi TV. This ensures optimal gazi tv live streaming. Remember, correct gazi tv frequency is crucial for uninterrupted viewing. So get ready to enjoy every exciting moment of the gazi tv asia cup live matches!
| | |
| --- | --- |
| Channel Name | Gazi TV |
| Satellite Name | Bangabandhu 1 119.1°E |
| Frequency | 4625 H |
| System | DVB-S2/8PSK |
| Symbol Rate | 4800 |
| FEC | 2/3 |
| Group | – |
| Type | FTA |
Rabbitholebd Asia Cup Live Stream
You're likely wondering how you can subscribe to Rabbitholebd to enjoy the Asia Cup 2023 live from Bangladesh. It's not as complicated as it seems and we're here to guide you through the process, explaining which platforms support Rabbitholebd. So let's dive into this topic, discussing in detail about subscription methods for Rabbitholebd and its diverse range of supported platforms.
| | |
| --- | --- |
| Package Name | Price |
| Daily | 20 TK for 24 hours |
| Monthly | 99 TK for 30 days |
| Best Deal | 499 TK for 180 days |
How To Subscribe To Rabbitholebd
Subscribing to Rabbitholebd's live service is a breeze, with several payment options available for both local and international fans. You can use the rabbitholebd app or access rabbitholebd for pc. Pay your $4.99 monthly subscription via Google Pay, Apple Pay or Paypal with auto renewal option. In Bangladesh, you have the flexibility of telecom partner payments, mobile financial payments or card payments.
| | |
| --- | --- |
| Payment Method | Accepted Country |
| Google Pay | Worldwide |
| Apple Pay | Worldwide |
| Paypal Pay | Worldwide |
| Telecom Payment (Grameenphone) | Bangladesh |
| Mobile Payment (bKash, Nagad, Rocket, Islami Bank Mcash, Mycash, AB Bank, Upay) | Bangladesh |
| Card Payment (Visa & Mastercard) | Bangladesh |
| Net Banking (Islami Bank, Mutual Trust Bank, Bank Asia, Ipay) | Bangladesh |
Rabbitholebd Supported Platforms
It's great to know that you can use Rabbitholebd on multiple platforms including Android, iOS, Windows, and even directly from a web browser. This means you can watch rabbitholebd gtv live today or any other day that suits you. With the flexibility of Rabbitholebd free access across devices, it's never been easier to stay connected with your favorite sports action.
Download Rabbitholebd Apps
Rabbitholebd on Android
Rabbitholebd on Apple Store
Rabbitholebd on Windows
Daraz Live
Fans can easily watch the Asia Cup 2023 live streaming in Bangladesh on the Daraz Shopping App. This platform, being the leading shopping platform in Bangladesh, is offering complete free coverage of the Asia Cup 2023. To enjoy the live TV streaming of the Asia Cup 2023 in Bangladesh, all you need to do is download the official Daraz Shopping App and head over to the Live Stream section. This allows you to watch the matches on your smartphones, providing convenience and accessibility for fans. With the Daraz Shopping App, you can stay updated with the latest scores, highlights, and analysis of the matches. Don't miss out on the action and excitement of the Asia Cup 2023 by watching it on Daraz.
Toffee
It's incredibly easy to catch all your favorite shows and sports on Toffee, making it a popular choice among streaming platforms. With just a few taps on your device, you can access the live TV streaming Asia Cup Bangladesh games in high-definition. The bangalink Toffee app is user-friendly and easily navigable, so you won't miss out on any action.
To tune into gtv live streaming Asia Cup matches, simply download the Toffee app and create an account. Next step: navigate to the "Live Sports" section. From there, select "Asia Cup 2023" to kickstart your sporting extravaganza! So gear up for some thrilling cricket action from the comfort of your home with Toffee's seamless streaming service.
Hotstar India
You're in Bangladesh and you're eager to catch the latest cricket match on Hotstar, but unfortunately, the service is blocked outside of India. Don't fret – there are ways to unblock Hotstar so you can still enjoy your favorite sports and shows. In this discussion, we'll dive into detailed steps on how to successfully unblock and access Hotstar from Bangladesh, ensuring you never miss a moment of the action.
How to Unblock Hotstar from Bangladesh?
To unblock Hotstar from Bangladesh, you'll need to use a VPN with Indian origin servers. This allows access to the exciting Hotstar Bangladesh vs India live matches. Try out Express VPN or Pure VPN for their discounted subscription offers. Some even offer a Hotstar India VPN free trial! Remember, an India proxy server for Hotstar is key to your seamless viewing experience.
Watch Asia Cup 2023 Live Streaming Free Online in Bangladesh
Cricket fans in Bangladesh can watch the Asia Cup 2023 live streaming for free on websites like Smartcric, CricHD, Webcric, TouchCric & Crictime. These platforms offer you a seamless experience to enjoy the thrilling cricket matches right from your home. So, if you're eager about asia cup live streaming in Bangladesh and don't want to miss any moment of this significant tournament, these sites are your go-to.
Remember though that despite being free platforms these websites may have pop-up ads which could interrupt your viewing momentarily. But considering they enable you to stream such important matches at no cost at all makes them worth checking out!