How to Watch Asia Cup 2023 Live Streaming in UAE
Just like cricket is not just a game, the Asia Cup 2023 isn't just a tournament. It's a celebration, a clash of titans, and you're invited. You're in the UAE and don't know how to join in? Don't worry! We've got you covered. This guide will show you how to stream the Asia Cup 2023 live, right from the comfort of your home. Ready to feel the adrenaline rush? Let's dive in!
Asia Cup 2023 Summary
In recent years, UAE has been the go to venue which has already hosted many Asia Cup tournaments and every time matches of Asia Cup scheduled here the stadiums have always been jam packed and the major reason for this is because there are millions of Asian expats live and work in the UAE and they absolutely enjoy following and watching cricket.
Similarly, the excitement for Asia Cup 2023 is on the roof with Pakistan and Sri Lanka as the joint hosts of the tournament. This prestigious cricket tournament is attracting significant attention, and if you're wondering how to watch Asia Cup 2023 live streaming in UAE, you're not alone. The feverish anticipation among cricket fans is palpable, and there's a lot in store for everyone.
The tournament will kick off in Pakistan, with the first four matches being hosted there. The action then shifts to Sri Lanka, where the majority of the matches, including the grand finale, will be held. All eyes will be on these two nations as they take center stage to host this thrilling cricketing event.
| | |
| --- | --- |
| Particulars | Details |
| Tournament | Asia Cup 2023 |
| Organized by | Asian Cricket Council |
| Current Edition | 16th |
| Last Winner | Sri Lanka |
| Last Runner-up | Pakistan |
| Start Date (Opening Match) | 30 August 2023, Wednesday |
| End Date (Final Match) | 17 September 2023, Sunday |
| Matches | 13 Match |
| No. of Teams | 6 |
| Teams | India, Pakistan, Sri Lanka, Afghanistan, Bangladesh, and Nepal |
| No. of Venues | 4 |
Asia Cup 2023 Live Streaming in UAE
You're about to delve into the exciting world of sports broadcasting in the UAE, where platforms like BeIN Sports, OSN Sports, YuppTV and STARZPLAY have secured the rights to broadcast Asia Cup 2023 Live. You'll also become acquainted with Etisalat, one of the biggest telecom operators, which offers a comprehensive range of services, including live sports streaming. It's a thrilling landscape, teeming with options for the sports enthusiast, and we're here to guide you through it, providing detailed, insider knowledge every step of the way.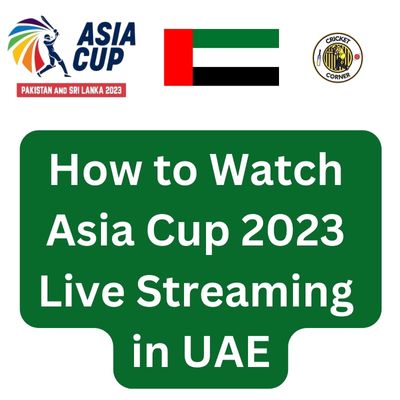 BeIN Sports
Don't miss a single match of Asia Cup 2023, as BeIN Sports offers you live streaming in the UAE. BeIN Sports is the go-to place for all your cricket cravings. It's not just about the Asia Cup live streaming UAE, they also bring you the ICC Men's World Cup, Champions Trophy, and all the cricket action you could ask for.
Looking for how to watch Asia Cup in UAE? It's easy with BeIN Sports. You can watch on your TV or even on your smartphone. All you need is to subscribe to one of their packages. With four options ranging from $13.00 to $55.00 per month, there's a package for every budget. So gear up, choose your package, and get ready for some cricket action with BeIN Sports.
| | |
| --- | --- |
| Package Name | Price |
| ULTIMATE(Guaranteed excitement at all times) | $55/month |
| PREMIUM(Unrivalled Entertainment and Sports) | $30/month |
| KICKOFF(Great start for the champions) | $20/month |
| TOGETHER(Family Entertainment and more) | $13/month |
Etisalat TV
Etisalat's TV service offers an array of cricket channels, including CricLife 1, 2, 3, and CricLife W, ensuring you won't miss a moment of the action. To watch Asia Cup live in UAE, simply tune in to these channels, as they hold the official broadcasting rights for Asia Cup 2023. This means you can enjoy live cricket streaming of the Asia Cup in UAE without any hassle. Whether it's the exhilarating matches or the thrilling last-over finishes, you'll get to witness it all. So, grab the Etisalat TV Ultra Sports Plan for AED 515.00/month or the Unlimited Sports Plan for AED 465.00/month, and get ready to be part of the cricket extravaganza. Embrace the excitement of Asia Cup live streaming in UAE with Etisalat!
| | |
| --- | --- |
| Etisalat Tv Sports Channels | Channel Numbers |
| BeIN Sports | 740 |
| OSN Sports Cricket HD | 788 |
| Ten Cricket HD | 789 |
| CricLife | 787 |
| Starzplay Sports | 724 |
YuppTV
It's clear that YuppTV has become a favorite among cricket fans due to its comprehensive coverage and ease of use. With the Asia Cup 2023 just around the corner, you might be wondering where to watch Asia Cup in UAE. Look no further, YuppTV is your answer. YuppTV UAE offers a seamless streaming experience, ensuring you don't miss a single moment of the thrilling India vs Pakistan clash or any other match of the tournament. It's simple to figure out how to watch cricket in UAE, just get a YuppTV subscription starting from $10/month, install the YuppTV app on your device, log in, and navigate to the 'Asia Cup 2023' tab. Enjoy the cricketing action with YuppTV's top-notch service.
STARZPLAY
Starzplay's 'Cricket' subscription is an affordable choice at AED 24.99/month, providing access to CricLife channels for the 2023 tournament. You can watch Asia Cup live online in Middle East with this package, getting the best of cricket action right at your fingertips.
To get started, you just need to download the Starzplay app or visit their website. Here, you'll find the option to subscribe to the 'Cricket' package. Once done, you'll be all set to enjoy Asia Cup live stream in UAE without any hindrance. The best part? You're getting all this access at a price that doesn't break your bank. So, sit back, relax, and enjoy Asia Cup live streaming free in UAE, thanks to Starzplay's affordable and user-friendly platform.
Watch Asia Cup 2023 Live Streaming Free Online in UAE
For watching Asia Cup 2023 live streaming free online in UAE, you'll find platforms like Smartcric, Cricfree, Webcric, and TouchCric particularly useful, despite the frequent ads. These platforms are a boon to cricket lovers, offering unhindered access to all the cricket action, including the highly anticipated pak vs india asia cup live streaming.
However, it's worth noting that these free streaming platforms have their downside. The most prominent drawback is the recurrent pop-up ads that are, admittedly, quite annoying. But don't let that deter you. With a bit of patience, you can navigate through these ads to enjoy the uninterrupted live streaming of Asia Cup 2023.