Willow TV Live Streaming – Watch Live Cricket in USA
Are you a cricket enthusiast in the USA, longing to catch all the live action? Look no further! Willow TV Live Streaming is here to bring the thrill right to your screens. With a subscription to this premier service, you can immerse yourself in the exciting world of live cricket from the comfort of your own home. Willow TV Channel Partners ensure that you never miss a single match. But that's not all – we'll show you other ways to watch Willow Cricket Live Streaming too. Get ready to experience the excitement, the drama, and the joy of cricket like never before!
How To Subscribe To Willow Streaming Service
You're probably wondering how to subscribe to Willow's streaming service, aren't you? Well, you're in luck! It's a straightforward process that will get you hooked up to Willow TV live streaming in no time.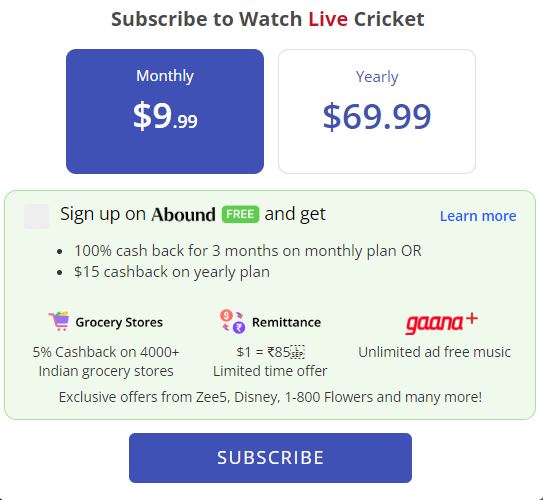 First off, navigate to the Willow TV website. Here, you'll find an array of options, including a Willow monthly subscription for $9.99 or an annual plan at a bargain price of $69.99. Choose the plan that best suits your needs and cricket-watching habits.
Once you've selected your plan, it's time to sign up. Enter your details, select your payment method, and voila! You're all set for unlimited cricket action. Willow's streaming service offers you a front-row seat to the world's best cricket games, complete with expert commentary and real-time analysis.
But it doesn't stop there. Willow TV is compatible with a range of devices, so you can catch the cricket action wherever you are. Whether you're an Android or iOS user, simply download the official Willow app from the Play Store or App Store. If you prefer the big screen, Willow has you covered with support for IPTV devices like Apple TV, Roku, Samsung Smart TV, Amazon FireTV, Xbox One, Android TV, and Google Chromecast.
CHECK: How to Watch Live Cricket Streaming on Hulu
Willow TV Channel Partners
You're an avid cricket fan, aren't you? With your in-depth knowledge of cricket rules and player statistics, we understand your need for real-time, engaging commentary, which is why we're delving into Willow TV's various streaming options. From experiencing high-intensity cricket matches on Dish, Fios TV, and Sling, to immersing in play-by-plays on Spectrum and Google Fiber, we've got you covered on how to make sure you don't miss a single run, wicket, or boundary.
Willow Online Streaming on Dish
It's possible to watch Willow online streaming on Dish, which allows access to both international and domestic T20 Leagues. You simply need to tune in to channel 712 for Willow or 9997 for Willow HD. This service is a cricket enthusiast's dream, providing you with the opportunity to watch live cricket in the USA. With the ability to follow every run, wicket, and boundary, you'll be as engrossed in the action as if you were at the stadium. You can enjoy Willow TV live stream on Dish for just $14.99 per month. Alongside this, it's also included in several language-specific packages, offering you a mix of local channels and Willow TV streaming. So, let's get the ball rolling and immerse yourself in the exciting world of cricket.
| | |
| --- | --- |
| Package Name | Price Per Month |
| Willow Cricket English | $14.99 (2 Channels) |
| Hindi Mega | $54.99 (34 Channels) |
| Hindi Elite | $34.99 (18 Channels) |
| Urdu Pak Mega | $29.99 (20 Channels) |
| Bangla Mega | $19.99 (7 Channels) |
| Punjabi Mega | $24.99 (22 Channels) |
| Tamil Mosaic | $39.99 (13 Channels) |
| Telugu Mosaic | $29.99 (8 Channels) |
| Malayalam Mega | $24.99 (7 Channels) |
Watch Willow Cricket on Fios TV
On Fios, one can tune into channel 806 to catch all the cricket action, making it a haven for sports enthusiasts. This is where you'll find willow tv live streaming, enabling you to watch live cricket in the USA, right from the comfort of your home. With the additional sports pass, which costs only $14.99, you'll gain access to not just Willow TV but other sports channels too. So, if you're a cricket fan who loves to dissect each match, understand the teams' strategies, and study the players' form, watching Willow cricket on Fios TV is the way to go.
| | |
| --- | --- |
| Package | Price Per Month |
| Sports Pass (11 Sports Channels) | $14.99 |
How to Add Willow TV on Sling
To access Willow TV on Sling, simply subscribe to one of their packages and add the appropriate sports channel add-on. Sling TV offers three packages: Sling Blue, Sling Orange, and Sling Orange + Blue. Unfortunately, none of these packages include Willow TV channels by default. However, you can add the Willow Cricket mini or World Sports mini add-on to your Sling Orange subscription. Both add-ons include Willow HD and Willow Xtra, allowing you to watch live cricket matches. The cost for these add-ons is an additional $10 per month. With the Willow TV subscription on Sling, you can enjoy live streaming of cricket matches in the USA. It's important to note that the Willow TV subscription on Sling allows streaming on multiple devices simultaneously.
| | |
| --- | --- |
| Package | Price Per Month |
| Willow Cricket add on Includes Willow Xtra and Willow HD | $10 |
Willow TV Streaming on Spectrum
With Spectrum, all you need is a subscription to enjoy the cricket matches. Spectrum offers Willow TV live streaming, allowing you to watch live cricket in the USA. Willow TV is a popular streaming service that provides coverage of major cricket events, including the Asia Cup 2023, ICC Cricket World Cup 2023, and Indian Premier League 2024. By subscribing to Spectrum's Internet and TV services, you can access Willow TV and enjoy all the upcoming cricket action. Spectrum's Internet service offers speeds up to 300 Mbps, ensuring a smooth streaming experience. Additionally, their TV Gold package provides access to over 200 channels, including Willow Cricket. So, if you're a cricket fan in the USA, Spectrum is the perfect choice to stay connected and watch your favorite matches with ease.
Package
Price Per Month
Features
Internet + TV
$109.98
Fast, reliable Internet plus 125+ channels and FREE HD
Up to 300 Mbps Internet (wireless speeds may vary)
85,000+ On Demand choices
Stream anywhere with the Spectrum TV® App
Willow TV live stream on Google fiber
If you're a fan of sports, you'd enjoy catching your favorite matches with Google Fiber, which includes channel 244. This is where you can access Willow Cricket, a dedicated channel for cricket enthusiasts. With its real-time commentary and extensive understanding of cricket teams and players, it's a treat for any cricket buff. Now, you might be wondering, "is Willow TV free?" or "where can I watch Willow for free?" Unfortunately, Willow TV isn't a free service, but it's included in your Google Fiber subscription. So, if you're in the USA and wondering how to watch a cricket match, Google Fiber has got you covered.
Watch Willow Cricket Live on Optimum
As a cricket enthusiast, your search for uninterrupted, live cricket streaming ends with Willow TV on Optimum. For a mere $15 added to your monthly Optimum bill, you'll have the luxury of 24/7 access to exclusive cricket content. Imagine the thrill of watching the crescendo of a nail-biting match, the spectacular centuries, and the game-changing wickets, all in high-definition clarity. Optimum's high-speed internet, with downloading speeds of 300 Mbps, ensures that you won't miss a single ball due to buffering. So, for $40 a month, not only do you get impressive internet speeds but also the best cricket action from around the globe. It's a steal, isn't it? Enjoy cricket like never before with Willow Cricket Live on Optimum.
Other Ways to Watch Willow Cricket Live Streaming
You can also watch Willow cricket live streaming on various live cricket streaming websites such as Webcric, TouchCric, and CricHD. These platforms provide an alternative option for cricket enthusiasts who want to watch their favorite matches in the USA. While Willow TV is a popular choice for live cricket streaming in the country, these websites offer additional options for those who may not have access to Willow TV or are looking for a free alternative.
Webcric, TouchCric, and CricHD cover a wide range of international and domestic cricket competitions, allowing fans to keep up with the latest matches and tournaments. However, it is important to note that these free streaming websites often come with advertisements that can be annoying and disruptive to the viewing experience. Additionally, there may be instances where the servers are down, causing interruptions in the live streaming.
For a more seamless and uninterrupted experience, opting for paid Willow TV plans can provide peace of mind and a better focus on enjoying the competitive cricket with friends and family.