ICC World Cup 2023 Tickets Booking Online, Price & Discounts 
Are you ready to experience the thrill of the ICC World Cup 2023? Get your tickets now and secure your spot in cricketing history! From the electrifying India vs Pakistan match to the intense battles between top teams, this tournament promises non-stop action. With online booking, affordable prices, and exclusive discounts, you can be part of the excitement without breaking the bank. Don't miss out on this epic event – book your tickets today and get ready to witness the world's greatest cricketing showdown.
How To Buy Cricket World Cup 2023 Tickets
With the highly anticipated ICC World Cup just around the corner, securing your tickets is essential to witness the thrilling matches and be part of this historic event. Fortunately, booking ICC World Cup tickets is a straightforward process.
To begin, visit the official page of BookMyShow or the official website of the ICC World Cup.
From there, you can choose your preferred city or team to filter the matches.
Once you have made your selection, click on the 'Book' option.
If you already have an account, you will be redirected to the booking page. If not, you can easily create one.
Select the number of seats you desire and choose your preferred seats.
Lastly, make the payment, and you are all set to experience the excitement of the Cricket World Cup 2023.
To make the process even more convenient, BookMyShow offers a user-friendly platform for purchasing these coveted tickets. They have partnered with various stadiums, including Dharamsala, to ensure a seamless ticketing experience. By collaborating with BookMyShow, the ICC World Cup has made it easier than ever to secure your seats and join the passionate cricket fans in cheering for your favorite teams.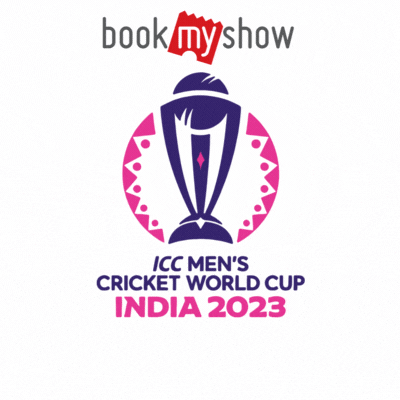 ICC Cricket World Cup Ticket Prices
The prices of tickets for the upcoming ICC Cricket World Cup 2023 vary depending on the venue. Some stadiums offer tickets starting as low as INR 200, while others have starting prices ranging from INR 750 to INR 1000. The prices can also go as high as INR 24,000 for premium seating options.
Booking your CWC tickets online is a convenient and hassle-free way to secure your spot at the matches. By booking in advance, you can also take advantage of any discounts or early bird offers that may be available. It is advisable to book your tickets as soon as they become available to avoid disappointment, as tickets for popular matches tend to sell out quickly.
Attending an ICC Cricket World Cup match is an incredible experience for cricket fans. The atmosphere in the stadiums is electric, with passionate fans from all over the world coming together to support their teams.
Tickets Booking Link For All Teams
If you want to secure your spot at the ICC World Cup 2023 and support your favorite team, make sure to click on the provided booking link for all teams. The ICC World Cup tickets booking start date is fast approaching, and you don't want to miss out on the opportunity to witness this thrilling cricket tournament live in India.
Booking your World Cup tickets online is the easiest and most convenient way to ensure you have a seat in the stadium. To book your tickets, simply click on the provided booking link and follow the instructions on the website. You will be able to choose the match you want to attend, select your preferred seats, and make the payment online. It's a simple and hassle-free process that allows you to secure your tickets from the comfort of your own home.
ICC ODI World Cup 2023 Venues
Check out the various stadiums that will be hosting matches for the ICC ODI World Cup 2023. From Ahmedabad to Trivandrum, these stadiums are expected to be packed with enthusiastic cricket fans for every match. If you don't want to miss out on the action, it's important to secure your tickets as soon as possible. The demand for tickets is high, so we highly encourage you to take advantage of this precious time and book your tickets online.
One of the stadiums that will be hosting matches is the M. Chinnaswamy Stadium in Bengaluru. Known for its electric atmosphere, this stadium is a must-visit for any cricket fan. To find out the price list for Chinnaswamy Stadium tickets, you can visit the booking link provided below. Make sure to check the availability and book your tickets in advance to avoid any disappointment.
To buy general tickets online for the ICC ODI World Cup 2023, you can click on the booking links for each venue provided in the table below. These links will take you to the official ticket booking website where you can select the matches you want to attend and purchase your tickets.
How to Book India vs Pakistan World Cup 2023 Match Ticket
The ODI World Cup 2023 is creating a buzz among fans, with the India vs Pakistan match being the most anticipated of the tournament. In fact, this match holds more excitement than the entire Superbowl. Just to give you an idea of its popularity, the ICC Men's T20 World Cup 2022 match between these two rivals drew over 256 million views.
Mark your calendars for October 14, when the highly anticipated Ind vs Pak match will take place at Narendra Modi Stadium in Ahmedabad. Originally scheduled for October 15, the match was rescheduled due to a clash with the grand Indian festival of Navratra celebrated in Gujarat. So, make sure you have the correct date in mind.
Ticket prices for this epic clash range from INR 1,000 to INR 8,000. To secure your spot, head over to BookMyShow and grab your tickets now. Hurry, as they tend to sell out quickly!
Ticket Booking Problems
Some fans have accused the Board of Control for Cricket in India (BCCI) and the ticketing platform Bookmyshow of lacking transparency in the ticket booking process. They have reported that as soon as the ticket process goes live, the website crashes and redirects them to a waiting page, where nothing happens. This has caused frustration and disappointment among the fans.
In response to these complaints, Bookmyshow has assured fans that they are aware of the issues and are working tirelessly to address them. They understand the overwhelming demand for ICC World Cup 2023 tickets and are doing their best to cope with it.
#CWC2023 pic.twitter.com/7V2m8G1J30

— BookMyShow (@bookmyshow) September 1, 2023
However, many fans are still left wondering if they will be able to purchase general tickets online, especially for matches in Pune. They are eager to know if Bookmyshow will be able to resolve the technical issues and provide a smooth ticket booking experience.
As of now, it is important for cricket fans to stay updated with the latest news and announcements from Bookmyshow and the ICC regarding the ticket booking process. It is advisable to regularly check the official websites and social media platforms for any updates and instructions. Hopefully, the technical issues will be resolved soon, and fans will be able to secure their tickets for the ICC World Cup 2023 without any further hassle.