IPL 2024 Ticket Booking Online, Price, Starting Date & Free Passes
The TATA IPL 2024 is getting closer every passing day and the tentative dates for the start of IPL 2024 are from the first week of April. BCCI is finalizing all the IPL 2024 ticket partners all across India to facilitate millions of passionate cricket fans in India who would like to enjoy the Indian Premier League in stadiums and have to chance to meet their favorite cricket stars closely. IPL 2024 will be the 17th edition and every year it is becoming more and more profitable and bigger interms of viewership and sponsorships. Like previous seasons, this year again BCCI and IPL management committee is looking to ensure the IPL tickets booking process is simple and efficient to facilitate the cricket fans.
IPL 2024 Ticket Booking
Many passionate cricket fans are already very eager to find out when will IPL 2024 ticket booking start because it often gets sold out very quickly on all the 10 official venues which will host the 16th season of IPL. As per multiple media reports, IPL 2024 is scheduled to start from the 1st of April 2024 which means IPL ticket booking will be available on all official ticketing partners from the 25th of March 2024.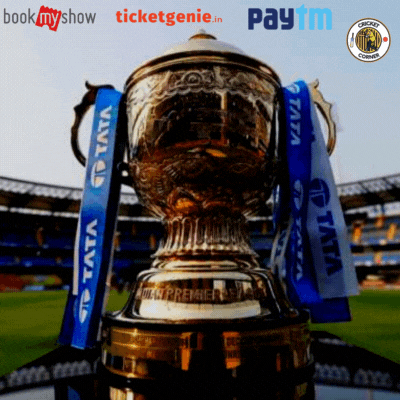 | | |
| --- | --- |
| TATA IPL 2024 Dates | Fri, 31st March – Sun, 28th May |
| IPL Ticket Starting Booking Date | From 25th March |
| Total Matches | 74 Matches |
| Total Participating Teams | 10 Teams |
| IPL 2024 Ticket Price | Starting from ₹400 |
| IPL 2024 Ticket Partners | BookMyShow, Insider.in, TicketGenie, EventsNow, and Paytm |
To book IPL 2024 ticket booking, we recommend you download the official ticket partner apps on your smartphones so you can be the 1st one to know whenever the IPL match tickets are made available from BCCI.
TATA IPL 2024 Ticket Partners
BookMyShow has been the premium default ticket partner for Indian Premier League for quite some time and every year they made sure to facilitate millions of passionate cricket fans in the important ticket process to help them buy and watch the games in an efficient manner. Being the default partner for the whole IPL 2024 event means they will have the tickets available for all the games but not restricted to particular franchises.
Six of the ten franchises also named BookMyShow as their IPL 2024 ticket booking online partner which includes Chennai Super Kings (CSK), Mumbai Indians (MI), Kolkata Knight Riders (KKR), Rajasthan Royals (RR), Lucknow Super Giants (LSG) and Gujarat Titans (GT).
Delhi Capitals (DC) and Punjab Kings (PBKS) have Paytm Insiders as their official IPL 2024 ticket booking partner so all the DC and PBKS match tickets are available for grabs on Paytm insider.in platform.
One of the most popular franchises in IPL which is Royal Challengers Bangalore (RCB) has partnered with Ticketgenie as their IPL 2024 ticket partner so all the RCB match tickets are available to be purchased on ticketgenie.in platform.
All the TATA IPL 2024 ticket partners will have the same price set by the BCCI which will be affordable for the majority of the passionate cricket fans in India who wants to support their favorite franchises in stadiums.
Learn About Asia Cup 2023 Tickets Booking Process Here
IPL 2024 Ticket Price
BCCI has defined IPL 2024 ticket price on the basis of stands and front rows for each of the venues where all the IPL 17 matches are to be played. The ticket price will be the same if you purchase it directly from the stadium or from any of the above-mentioned online ticket partners. Below are the official IPL 2024 ticket price defined by the cricket board.
| | |
| --- | --- |
| Seating Position | Cost of Ticket |
| front rows or lower stands like B1, C1, D1, F1, G1, H1, K1 or L1 | 400-500 INR |
| upper stands like B, C, F, K or L | 900-2100 INR |
| Upper House Club | INR 3000 |
| Lower House Club | INR 9000 |
| VIP box | INR 19000 |
| Corporate Box | INR 24,000 |
Corporate Box is a privileged special VVIP box which will be available on selective stadiums on which high-class business persons can enjoy the game along with their families. These corporate boxes also host many political dignitaries and BCCI officials who come to watch IPL's exciting games.
IPL 2024 Venues
Each franchise is scheduled to play home and away matches in this season as this year there are no pandemic issues and no restrictions defined by the Indian government for the health and safety of the public so IPL 2024 will be played on ten different cricket stadiums in India. All IPL 2024 venues will follow the same IPL ticket price criteria set by the BCCI.
| | |
| --- | --- |
| Franchise | Home Venue |
| Gujarat Titans (GT) | Narendra Modi Stadium, Ahmedabad |
| Chennai Super Kings (CSK) | M. A. Chidambaram Stadium, Chennai |
| Mumbai Indians (MI) | Wankhede Stadium, Mumbai |
| Delhi Capitals (DC) | Arun Jaitley Stadium, Delhi |
| Punjab Kings (PBSK) | Punjab Cricket Association Stadium, Mohali |
| Sunrise Hyderabad (SRH) | Rajiv Gandhi International Cricket Stadium, Hyderabad |
| Kolkata Knight Riders (KKR) | Eden Gardens, Kolkata |
| Royal Challengers Bangalore (RCB) | M. Chinnaswamy Stadium, Bengaluru |
| Rajasthan Royals (RR) | Sawai Mansingh Stadium, Jaipur |
| Lucknow Super Joints (LSG) | BRSABV Ekana Cricket Stadium, Lucknow |
IPL 2024 Tickets Booking Online Procedure
All the IPL 2024 tickets will be available on BookMyShow official Indian booking platform which is by far the most popular and most convenient platform for Indian users to get hold of sports and other entertaining events. The complete process for BookMyShow IPL ticket 2024 is as follows.
Download the official BookMyShow application on your smartphone and create your account if you don't already have one.
Once you are logged in, please navigate to the booking terminal and then select the sports category. Search for TATA IPL and then choose the match and date for which you want to purchase tickets.
Filter the tickets by price and other criteria as per your needs and then click to view.
Choose the stand and seat of your preference according to your budget and seat availability. You can also utilize the handy stadium layout to get a nice idea of the view you will be having on those selected seats.
Once the seat is selected, the relevant section on the stadium layout will be highlighted
Verify the ticket and quantity again before heading to the next step. You can purchase a maximum of 6 tickets on a single transaction.
Make the payment using your preferred payment option and get your ticket information instantly on your registered email.
If you are not tech savvy, tickets can also be purchased from the booking offices located in each stadium but there will be long queues, you won't get your preferred ticket and chances of getting any are considerably very low as well. We highly recommend you book TATA IPL 2024 ticket online by following the above-mentioned simple process.
IPL 2024 Free Passes
We will be hosting a special quiz competition on your social media pages from which you can win a chance to win an IPL 2024 Free Pass. We will be giving away 5 PSL tickets free passes in every game so go ahead and follow Cricket Corner on social media today to win a chance to watch IPL 2024 matches live in stadiums.
Frequently Asked Questions (FAQs):
Where can I get IPL ticket?
You can purchase the IPL match tickets on online ticketing platforms such as BookMyShow & Paytm Insider. Lower price tickets can be purchased from the ticket booking offices located in the Stadiums.
What is the starting ticket price for TATA IPL 2024?
The starting price for IPL ticket 2024 is only 400 INR for front rows or lower stands like B1, C1, D1, F1, G1, H1, K1, or L1. These tickets are generally readily available at the stadium booking office.
Can I get a refund after ticket cancellation?
Yes, a full refund is available minus the booking fee if you cancel your online ticket 24 hours before the match.
Are the physical tickets necessary to show in the stadium?
Yes, a physical ticket is necessary to show at the gate before you are allowed to enter a stadium. If you have purchased tickets online then they will be delivered to your house address within one or two business days.
Is food complementary in the IPL ticket?
No. Food is not complementary in the IPL 2024 ticket price but there are outlets available in the stadiums from where you can purchase different snacks & beverages as per your choice.
Which items are prohibited inside the stadium?
Due to security and player safety concerns, BCCI has banned all fans to bring in water bottles, power banks, backpacks, coins, and any type of sharp item or accessory. Fans can purchase water bottles from outlets inside the stadium.