How & Where To Watch Major League Cricket 2023 Live Streaming
Major League Cricket 2023 is just around the corner, and you won't want to miss a single moment of the action. Brace yourself for heart-stopping catches, thunderous sixes, and nail-biting finishes that will leave you on the edge of your seat.
MLC 2023 Live Streaming
To watch MLC 2023 Live Streaming, there are multiple options available. In India, Sports18 Network holds the official broadcasting rights on linear means. You can tune in to their channel to enjoy all the live matches of Major League Cricket. Additionally, JioCinema has secured the digital streaming rights for MLC in India. You can access their platform to stream the matches online at your convenience.
For viewers in the USA and Canada, Willow TV is the major broadcast partner for MLC 2023 Live Streaming. They'll provide comprehensive coverage of all the matches, ensuring that cricket enthusiasts across North America don't miss out on any of the thrilling moments.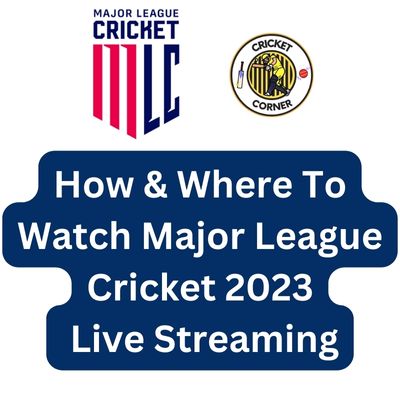 MLC 2023 Live Streaming Channels
Discover the diverse array of channels broadcasting the exhilarating MLC 2023 action worldwide, ensuring you don't miss a moment of this thrilling cricket extravaganza.
Major League Cricket (MLC) 2023 is set to captivate fans across the globe, and if you're in India, there are multiple options for live streaming. The official broadcaster for MLC in India is Sports 18, offering two channels: Sports 18 1SD and Sports 18 1HD. You can catch all the intense matches and follow your favorite teams on these channels.
In Pakistan, A Sports HD will be airing all the matches live. Fans in the Carribean can tune into Flow Sports to witness every thrilling moment of MLC action.
If you're based in the United Kingdom, Sky Sports is your go-to channel for watching MLC live. Sub Saharan Africa viewers can rely on Super Sport to bring them all the excitement from every match.
Etisalat will be broadcasting MLC matches live for viewers in MENA (Middle East and North Africa). Australian fans can catch the games on Yupp TV, while New Zealand viewers have Spark Sports as their designated broadcaster.
Lastly, no matter where you are in the world, you can always head over to MLC Network's YouTube channel to watch live streaming of all major league cricket matches free of charge.
| | |
| --- | --- |
| Territory | Channel |
| United States & Canada | Willow TV |
| India | Sports 18 1SD and Sports 18 1HD |
| Pakistan | A Sports HD |
| Carribean | Flow Sports |
| United Kingdom | Sky Sports |
| Sub Saharan Africa | Super Sport |
| Sri Lanka | SLRC (Channel Eye) |
| MENA | Etisalat |
| Australia | Yupp TV |
| New Zealand | Spark Sports |
| Worldwide | MLC Network Youtube |
Watch MLC 2023 on JioCinema in India
To watch MLC 2023 live streaming on JioCinema, you can easily subscribe to their premium plan. Simply visit the JioCinema website or open the app on your Android or iOS device. Once there, select the 'Subscribe' option located at the top of the screen.
You'll be taken to the subscription page where you'll find the Rs 999 plan specifically designed for annual access to all content on JioCinema's OTT platform.
To proceed with subscribing, click on the 'Continue and pay Rs 999' button. You will then be prompted to choose your preferred payment method, which can be either UPI or Credit and Debit cards. Once you've selected your payment method and completed the transaction, your subscription to JioCinema Premium will be activated.
Now you're all set to enjoy MLC 2023 live streaming on JioCinema. Witness every thrilling match, experience breathtaking moments, and cheer for your favorite teams and players from anywhere in India. With its user-friendly interface and high-quality streaming capabilities, JioCinema ensures that you never miss out on any action-packed delivery or boundary-smashing shot.
If at any point you decide to cancel your subscription, it's just as easy as subscribing. Visit either the JioCinema website or app and click on the 'Manage Subscription' button. From there, simply click on 'Cancel Subscription', and you won't be charged for future payments.
How To Watch MLC 2023 in the USA
Experience the thrill of MLC 2023 as it unfolds in the USA through various streaming options and TV providers. If you're a cricket enthusiast residing in the USA, there are multiple ways for you to catch all the action live.
One of the most popular options is Willow TV, which holds the broadcasting rights for major cricket boards and leagues. To access Willow TV, you can subscribe directly through their website or opt for a TV provider that carries the channel. Dish Network, Verizon Fios, Spectrum, Xfinity, Altice One, and Google Fiber are some of the providers that offer Willow TV in their packages. Each provider has different subscription fees ranging from $19.99 to $90 per month.
If you prefer streaming services over traditional cable or satellite subscriptions, Sling TV is your go-to option through Sling TV's Willow Cricket package. For $10 per month, you can enjoy unlimited access to Willow and Willow Extra channels. Sling TV even offers a free trial for three days if you want to give it a test run before committing.
Once subscribed to Willow TV through either method, you'll gain access to an array of features. Subscribers enjoy HD content with interactive video scorecards and statistics. You can watch live events as they happen or catch up on replays and highlights at your convenience.
Willow TV is available on various platforms including Apple TV, Roku, Smart TVs (such as Samsung or LG), Amazon Fire TV Stick 4K, Android TVs (like Sony Bravia), Xbox One consoles, mobile devices (iOS and Android), and even Chromecast-enabled devices.
How to Watch MLC 2023 Free Without Subscription
If you're looking to catch all the thrilling moments of MLC 2023 without any subscriptions, there are free streaming websites available for your smart devices. You can easily enjoy Major League Cricket Live Streaming on websites like CricHD, WebCric, TouchCric, Smartcric, Cricfree, and Crictime. These apps provide a convenient way to watch the Major League Cricket live streaming for free.
Frequently Asked Questions
Can I watch the MLC 2023 matches on my smart TV?
Yes, you can watch the MLC 2023 matches on your smart TV. Simply download the JioCinema, Willow TV, ARYZAP or Sling TV applications and enjoy all the action from the comfort of your own home.
Is there an option to watch the MLC 2023 matches on-demand?
Yes, you can watch the MLC 2023 matches on-demand. Simply visit the official website or download the JioCinema application to access the replays and highlights of all the exciting cricket action whenever you want.
Can I watch MLC 2023 matches on any other streaming platforms besides JioCinema in India?
Yes, besides JioCinema, you have other streaming options in India to watch MLC 2023 matches. Platforms like Disney+ Hotstar and YuppTV are also broadcasting the live streaming of Major League Cricket 2023.