DTH Signal Setting & Antenna Installation in India 
Are you excited about the upcoming Cricket World Cup 2023? Well, to ensure that you don't miss a single match, it's crucial to have a strong DTH signal and a properly installed antenna. In India, where cricket is a religion, I understand the importance of enjoying the game without any interruptions. In this article, I will guide you through the process of DTH signal setting and antenna installation, so you can have the best viewing experience for CWC23.
DTH Signal Settings in India
In order to enjoy high-quality DTH service from the top DTH service providers in India, subscribers can adjust their DTH signal settings. The DTH services are provided to users through a small Set Top Box connection, which is facilitated by reliable and well-known service providers mentioned below. Discover how to optimize your DTH signal settings for an enhanced viewing experience.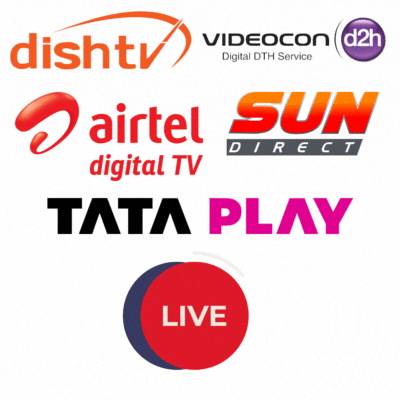 Dish TV
As a renowned DTH service provider, Dish TV has established itself as a leader in the industry since its inception in 2004. With a wide range of over 300 channels and a massive customer base, their expertise in satellite television is unmatched. Moreover, their merger with Videocon d2h in 2018 has further strengthened their position in the market.
Steps in Setting & Installing Dish TV Antenna
Start by turning on your TV and Dish TV receiver.
Wait for a message to appear on the TV screen.
Press the menu button and deselect any default options that are selected.
Select the "point dish" option for system setup.
Choose the "Installation" option.
Press the "point dish" option again to bring up the menu.
Use the highlighter to select the "satellite" option.
Change the number to 119.
Move the transponder to number 11 and wait for the signal strength to update.
Look for a green signal box, which indicates that the receiver is locked onto the satellite network.
If necessary, loosen any bolts as indicated in the manual.
Move the dish slightly in the desired direction.
Check the signal strength indicator within 10 seconds of each movement.
When the signal strength bar turns green, tighten the bolts securely.
Go back to the screen and your Dish TV antenna is now set up and installed.
CHECK: ICC Cricket World Cup 2023 Live Streaming & TV Channels
Tata Play (Tata Sky)
Tata Sky is a renowned player in the DTH industry, known for its extensive range of entertainment channels. With a diverse selection of content, Tata Sky caters to the varied interests of its subscribers. The company has been a pioneer in the Indian market, being the first to introduce the concept of a 4K set-top box, providing viewers with a superior viewing experience. Additionally, Tata Sky has also revolutionized the way we consume content by bringing Video on Demand services to our screens, allowing users to enjoy their favorite shows and movies at their convenience.
Steps in Setting & Installing Tata Play Antenna
Connect the "LNB" to the "LNB IN" Port of the satellite finder.
Switch your Television to "TV out" or "VIDEO OUT" of the set top box.
Turn on all the devices.
Set the satellite finder to the highest sensitivity setting.
Gradually move the satellite finder until it stops beeping and the television screen receives a good signal.
Switch to the set top box and press the "Organization" button on your Tata Sky remote.
Select "System setting" and then choose "Signal Strength".
Check the signal strength received by your set top box from the Tata Sky Dish.
The Tata Sky antenna signal direction should be 148 degrees Southeast (Direction) and 48 degrees (Elevation).
The signal strength should be at least 60% or above.
Once the signal strength is proper and the set top box is fixed in the perfect position, update and restart it.
Now you can enjoy watching your TV.
Airtel Digital TV
Airtel Digital TV, launched by Bharti Airtel in 2008, has established itself as one of the leading service providers in the field. With a wide range of offerings, they provide access to over 500 channels, majority of which are high-definition (HD) channels. Airtel Digital TV ensures that viewers can enjoy a diverse range of content, including movies, sports, news, and entertainment, with the highest quality visuals and sound. With their innovative features and user-friendly interface, Airtel Digital TV aims to enhance the television viewing experience for its customers.
Steps in Setting & Installing Tata Play Antenna
Connect the signal cable from the antenna to the SAT IN port (1) on the back of the X stream Box.
Attach the other end of the HDMI cable to the HDMI port on your TV.
Connect the HDMI cable to HDMI port (2).
Turn on your Airtel DTH set top box and your TV.
Tune in to Channel 998 on your TV.
Follow the on-screen instructions based on your specific service.
Adjust and secure your Airtel DTH set top box to ensure proper signal strength.
A confirmation code will be generated once your settings are successful.
Use your registered phone number to send the code via SMS to 54325.
CHECK: Watch DD Sports 1.0 Live Free on DTH
Videocon d2h
Videocon d2h, a renowned direct-to-home (DTH) service provider in India, has experienced rapid growth in its competition level following its merger with Dish TV. With a customer base of 29 million, Videocon d2h has established itself as one of the leading DTH providers in the country. Offering a wide range of interesting channels, the company strives to cater to the diverse entertainment needs of its customers. With its exceptional service and extensive channel lineup, Videocon d2h continues to be a preferred choice for millions of viewers across India.
Steps in Setting & Installing Videocon d2h antenna
Connect your Videocon d2h Set Top Box to your TV.
Press the "Menu" option on your d2h remote.
Select "Setup" and then press "Installation".
Enter the password as 1234.
Go to the box settings and select "Satellite Management".
Find the 11-digit card number on the sticker of your set top box.
Use the 4th, 6th, 8th, and 10th digits as the password to access satellite management on your TV screen.
Check the signal strength, which should be between 85% – 90%.
Look for the Transponder option on the same page and check the signals of the transponders.
Press the yellow button on the remote to ensure that the Lnb type is set to universal and Lnb power is on.
After the software installation is complete, the set top box will restart and display the Videocon D2H logo.
Make sure the Videocon d2h antenna is aligned at 88° east towards the Clarke Belt.
Sun Direct
Sun Direct is a leading DTH provider based in Chennai, with a legacy of serving customers since 2007. With an impressive subscriber base of around 10 million, Sun Direct has established a reputation for reliability among its customers. While they do offer a range of Hindi and English channels, their main focus lies in providing an extensive selection of content in various South Indian languages. Whether it's Tamil, Telugu, Malayalam, or Kannada, Sun Direct ensures that viewers have access to a wide array of entertainment options in their preferred languages.
Steps in Setting & Installing Sun Direct d2h antenna
Turn on your TV and set-top box.
Press the menu button and navigate to the installation option.
Choose Advanced Installation using the left and down keys on your remote.
Press the yellow button on your remote for TP (Transponders) edit.
Enter the frequency as 12316, symbol rate as 30000, and polarity as Horizontal.
Have someone watch the screen for the "Quality bar" while you adjust the direction of the Dish according to the given parameters.
Make sure the quality signal strength is at least 70% or higher for the best experience.
Press the green button on your remote to add a TP.
Enter all the necessary data for the transponder and keep checking the quality bar as it updates for each one.
Select each transponder one by one and press OK.
You will see a list of channels, select the ones you desire.
Choose INSTALL, then turn off and on your set-top box.
It will automatically update and then restart your TV.
Congratulations, you have successfully installed your Sun Direct antenna!
CHECK: Watch Star Sports 1 Live in Hindi, Tamil & Teleugu
How To Increase DTH Satellite Signal
I've been using DTH services for over 5 years and after facing various different problems, I have mentioned the top six ways one can use to increase signal strength dth.
It is highly advisable to first diagnose the problem independently by repositioning your dish antenna correctly. Gradually adjust the alignment of your DTH antenna by moving it both horizontally and vertically. Majority, of the times it is that simple fix which does the trick without needing to look to other technical components of DTH.
If you are still unable to enhance the DTH signals, then inspect the various components and accessories associated with your DTH connection for any potential issues which are discussed in detail below.
LNB
To improve your DTH satellite signal, use a certified LNB and connect it properly to your set-top box. The LNB, or Low Noise Block, is an essential component in receiving satellite signals. It plays a crucial role in converting the GHz satellite signals into MHz, allowing your set-top box to decode music and video. When it comes to setting up your DTH signal and antenna installation, the LNB is a key element to consider.
One important aspect to remember is the direction of your Dish TV satellite. Make sure to align your satellite dish in the correct direction, as indicated by your service provider. This will ensure that you receive the strongest and most reliable signal possible. Once your dish is properly aligned, it's time to connect the LNB to your set-top box.
To connect the LNB, locate the LNB input on your set-top box. It is usually labeled as "LNB IN" or "SAT IN." Take the coaxial cable from the LNB and plug it securely into the LNB input on your set-top box. Make sure the connection is tight to avoid any signal loss.
It's crucial to use a certified LNB for optimal performance. Certified LNBs are specially designed to work seamlessly with your satellite receiver, ensuring the best possible signal quality. You can purchase certified LNBs from reputable online dealers to guarantee their authenticity.
Digital TV Antenna
When it comes to DTH signal setting and antenna installation in India, the digital TV antenna plays a crucial role in receiving high-quality signals for a seamless viewing experience.
Here are a few important things to keep in mind when installing your digital TV antenna.
Firstly, choose an appropriate location for your antenna. It should be placed in an area where it has a clear line of sight to the transmission tower. Avoid obstructing objects such as tall buildings or trees that could block the signal. Higher elevation, such as rooftops or attics, is often recommended for better reception.
Next, ensure that your digital TV antenna is securely connected to your television. Use a coaxial cable to connect the antenna to the TV's antenna input. Make sure the connection is tight and secure to avoid any signal loss or interference.
In addition, it is important to regularly inspect your digital TV antenna for any damage or wear and tear. Extreme weather conditions, such as strong winds, can potentially affect the antenna's alignment or cause physical damage. If you notice any issues, it is advisable to seek professional assistance for repairs or replacements.
Replace / Clear Connectors
When it comes to DTH signal setting and antenna installation, having proper connectors is crucial for a seamless viewing experience. Over time, connectors can become loose or damaged, affecting the signal quality.
Here's how you can replace or clear connectors on your DTH setup.
Firstly, start by disconnecting the power supply to your set-top box and antenna. This is important for your safety and to avoid any potential damage to the equipment. Once the power is disconnected, carefully remove the existing connectors from the cables. Inspect them for any signs of wear or damage. If the connectors are in good condition, you can simply clean them using a soft cloth to remove any dirt or debris.
However, if the connectors are damaged or worn out, it is advisable to replace them with new ones. To do this, you will need to purchase compatible connectors from a reputable supplier. Once you have the new connectors, carefully connect them to the respective cables. Ensure that the connections are secure and tight to avoid any signal loss.
After replacing or cleaning the connectors, reconnect the power supply to your set-top box and antenna. Power on your DTH setup and check the signal strength and quality.
Coaxial cable
The coaxial cable plays a crucial role in delivering high-quality signals to your DTH receiver. To ensure a strong and stable signal strength, it is important to properly install and maintain your coaxial cable.
Start by selecting a high-quality coaxial cable that is suitable for DTH signal setting and antenna installation. Look for a cable that is designed for satellite TV and has low signal loss. This will help to minimize signal degradation and ensure optimal performance.
When installing the coaxial cable, make sure to avoid sharp bends or kinks that can cause signal loss. Keep the cable away from any sources of interference such as power lines or other electronic devices. Secure the cable properly to prevent it from getting damaged or disconnected.
To maintain the integrity of the coaxial cable, regularly inspect it for any signs of wear or damage. If you notice any fraying, corrosion, or loose connections, take immediate action to fix or replace the affected parts. Remember, a damaged coaxial cable can lead to weak signals and poor picture quality.
Signal booster
With a signal booster, you can enhance the strength of your DTH signal for optimal reception during CWC23 in India. A signal booster is a small device that amplifies the signals from your DTH satellite, improving the quality of the signal received by your television or receiver.
To improve your DTH signal quality, start by selecting a signal booster with an external antenna. This type of booster helps improve reception both indoors and outdoors.
Once you have the booster, follow these steps to install it:
Find a suitable location: Place the signal booster near your television or receiver, preferably in an area with good signal strength.
Connect the booster: Use the coaxial cable to connect the DTH satellite dish to the booster's input port. Then, connect the booster's output port to your television or receiver using another coaxial cable.
Power on the booster: Plug the booster into a power outlet and turn it on. You may see indicator lights that show the booster is working.
Adjust the antenna: If your signal booster has an external antenna, adjust it for the best reception. Experiment with different positions and orientations until you find the optimal setup.
Frequently Asked Questions
What signals are used in DTH transmission?
DTH transmission uses satellite signals, specifically from geostationary satellites. These satellites are positioned at a fixed point in the sky, allowing for continuous transmission of signals to your DTH receiver.
Is DTH signal reception affected or disrupted by environmental factors?
Environmental factors such as rain and sun can affect the reception of your DTH signal. During heavy rains, the high frequency microwaves coming from the satellite can be absorbed by the raindrops, causing a temporary loss of signal. This is known as a rain outage. The intensity of the rain and the size of the raindrops can determine the severity of the outage. It is important to note that rain outages are temporary and the signal will be restored once the rain subsides.
Another environmental factor that can disrupt DTH signal reception is the sun. During Equinoxes, the sun's radiation can overpower and interfere with the signals from satellites. This phenomenon is known as a sun outage. Sun outages occur intermittently and can last for a few minutes to a few hours. The exact duration of a sun outage depends on the location and the alignment of the satellite. It is advisable to keep track of the Equinoxes and be prepared for potential signal disruptions during those times.
To minimize the impact of these environmental factors on your DTH signal reception, it is recommended to ensure that your dish antenna is properly installed and shielded. Make sure that there are no obstructions such as trees or buildings blocking the line of sight between the antenna and the satellite.
Does using a larger dish size guarantee better picture quality?
Using a larger dish size does not necessarily guarantee better picture quality, it can potentially improve signal reception and minimize signal disruptions. The size of the dish determines the amount of signal it can capture from the satellite. A larger dish has a larger surface area, which means it can capture more signal and potentially provide a stronger and more stable connection. This can result in a better overall viewing experience, with less pixelation and fewer signal dropouts.