LKK vs NRK Match 6 TNPL 2023 Dream11 Prediction & Live Streaming
As the old adage goes, "Every match is a new battle," and that's exactly what you can expect from the upcoming clash between Lyca Kovai Kings and Nellai Royal Kings in the Tamil Nadu Premier League 2023. Both teams have started their campaign with a win, and they will be eager to continue their momentum and climb to the top of the points table. The match promises to be an exciting affair, with batters expected to dominate the proceedings at the SNR College Cricket Ground in Coimbatore.
LKK vs NRK Match Details
The match is scheduled to take place on June 16 at the SNR College Cricket Ground in Coimbatore. The winner of the match will take the lead in the points table, making it an important game for both teams.
Both LKK and NRK have a similar record, with one win each in the tournament. LKK won their previous game against IDream Tiruppur Tamizhans by 70 runs, while NRK beat Siechem Madurai Panthers by six wickets. Both teams will look to maintain their winning momentum in this game.
Below are the LKK vs NRK match 6 details of TNPL 2023.
Match: Lyca Kovai Kings vs Nellai Royal Kings, Match 6
Competition: Tamil Nadu Premier League 2023
Date: 16th June 2023
Time: 07:00 IST
Ground: SNR College Cricket Stadium – Coimbatore, India
LKK vs NRK Live Streaming
You can catch the action of the LKK vs NRK match live on Voot Select or with a FanCode subscription, without breaking the bank. It's a steal of a deal! The live streaming option allows you to stay up-to-date with every ball bowled, every run scored, and every wicket taken. You can witness the match analysis, player performance, team strategy, fan reactions, and match highlights in real-time.
The live streaming option is a great way to keep up with the LKK vs NRK match, especially if you can't be there in person. You can watch from anywhere, at any time, and stay connected with the latest updates. You can also use the live streaming option to follow your favorite player's performance, and track which team is in the lead. With live streaming, you won't miss a moment of this exciting match.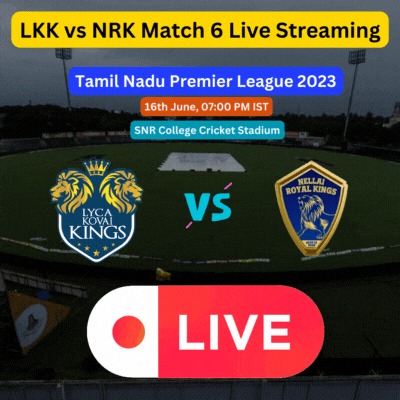 Weather Forecast
If you're planning to attend the match tomorrow, don't forget to check the weather forecast for Coimbatore. According to the latest updates, the city is likely to experience misty conditions during the match. The temperature is expected to be around 28 degrees Celsius, with fluctuations possible due to the humidity levels.
There are no significant chances of rain during the match, but the high humidity levels might lead to some discomfort for the players and the audience. The wind speed is expected to be moderate, and it could have an impact on the game, especially during fielding or while playing aerial shots.
Pitch Report
The pitch at SNR College Cricket Ground in Coimbatore is expected to be a batter-friendly one, with an average first innings score of 157. This means that the team batting first will likely need to put up a big total to be competitive. Additionally, spinners could also play a crucial role in the match, as the pitch can offer some assistance to them.
Chasing the total would be the preferred option on this pitch, as it is easier to know what target needs to be achieved. This gives an advantage to the team batting second, as they can plan their innings accordingly. However, it will also depend on the impact of weather on the match, as a change in conditions could lead to a different playing strategy.
LKK vs NRK Match 6 Probable Playing XIIs
We expect the below-mentioned playing XIs for the LKK vs NRK Match 6 in TNPL 2023 to feature tonight with Lyca Kovai Kings likely to rely on top batting picks Sai Sudharsan and Shahrukh Khan, while Nellai Royal Kings will look to Arun Karthik and Nidhish Rajagopal for runs. Lyca Kovai Kings have a well-balanced lineup with a strong batting and bowling unit, making them the favorites to win the match. Shahrukh Khan, who was phenomenal in the last game, will be the key player for the team.
Lyca Kovai Kings
Sai Sudharsan, Shahrukh Khan(C), B Sachin, U Mukilesh, J Suresh Kumar(wk), Ram Arvindh, K Gowtham Thamarai, L Kiran Akash, Manimaran Siddharth, Jhatavedh Subramanyan, M Mohammed
Nellai Royal Kings
Sj Arunkumar, NS Rajagopal, G Ajitesh, Sri Neranjan R, KB Arun Karthik(C), Rithik Easwaran(wk), R Sonu Yadav, Karthick Manikandan, S Sandeep Warrier, M Poiyamozhi, S Lakshay Jain
LKK vs NRK Match 6 Dream11 Prediction
Our Dream11 prediction for the LKK vs NRK Match 6 includes top picks like Sai Sudharsan, Shahrukh Khan, and Arun Karthik, with Lyca Kovai Kings being the favorites to win based on their balanced lineup and better form. Sudharsan's impressive knock of 88 runs off 45 balls in the last match makes him a top batting pick, along with Khan who was phenomenal on both fronts. Arun Karthik is a good choice for wicket-keeper, as he has been consistent in his performances.
In terms of all-rounders, K Gowthan Thamarai and R Sonu Yadav are ideal picks, as they have shown their ability to contribute in both batting and bowling departments. As for the bowlers, Jhatavedh Subramanyan, M Mohammad, S Mohan Prasath, and M Poiyamozhi are top picks as they have been effective in containing the opposition and taking wickets.
Team strategies and captaincy choices will play a crucial role in this match. Both teams are likely to choose to field first if they win the toss, as chasing is the preferred option on this pitch. It will be interesting to see how the teams utilize their resources to set or chase a target. Fantasy league players should keep an eye on the weather conditions and the pitch behavior to make informed decisions.
Keeper — KB Arun Karthik
Batsmen — Sai Sudharsan (vc), Shahrukh Khan (c), U Mukilesh, NS Rajagopal
All-rounders — K Gowthan Thamarai, R Sonu Yadav
Bowlers — Jhatavedh Subramanyan, M Mohammad, S Mohan Prasath, M Poiyamozhi
Let us know your thoughts on our LKK vs NRK Match 6 Dream11 Fantasy team in the comments below and who you think will win this clash.