PSL 2023 Opening Ceremony Date, Timings & Performing Stars List
Pakistan Super League is all set to stage its 8th edition of the tournament and the event will be started on 13th February 2023 as per the PSL 2023 schedule announced by the PCB a few weeks ago. PSL has a trend of hosting a mega ceremony before the start of each season which will be followed for the PSL 2023 opening ceremony as well. Chairman PCB, Mr. Najam Sethi is among the founders of the Pakistan Super League who took the risk of launching the tournament in 2016 in UAE and since then it has become the world's leading cricket league.
PSL 2023 Opening Ceremony Date & Timings
The official announcement related to PSL 8 opening ceremony date & PSL opening ceremony 2023 time has been made by the PCB which was eagerly anticipated by millions of passionate cricket fans in the country. The confirmed details are as follows.
| | |
| --- | --- |
| Date | 13th February 2023 |
| Time | 07:00 PM (Pakistan Standard Time) |
| Venue | Multan International Cricket Stadium |
Which Stars Performing at PSL 8 Opening Ceremony
PCB has announced five top-performing artists in the country who will entertain millions & millions of passionate cricket fans in Pakistan and all around the world through their sensational singing performances in the HBL PSL opening ceremony. The star-studded list to perform in PSL 2023 opening ceremony is as follows.
Shae Gill
Asim Azhar
Faris Shafi
Sahir Ali Bagga
Aima Baig
🎉HBLPSL8 OPENING CEREMONY🎉

🗓️ Monday, 13th Feb, 2023
🕧 6PM
🏟️ Multan Cricket Stadium
🎤 Asim Azhar, Aima Baig, Faris Shafi, Sahir Ali Bagga, Shae Gill

Followed by the Opening Match:@MultanSultans vs @lahoreqalandars

🎟️https://t.co/hSBUE7q6dC#SabSitarayHumaray l #HBLPSL8 pic.twitter.com/JyEVF9uMOx

— PakistanSuperLeague (@thePSLt20) February 10, 2023
It is also revealed by PCB that Shae Gill, Asim Azhar & Faris Shafi will be singing the PSL 2023 Anthem while the composition and production will be done by Abdullah Siddiqui. Every year, there has been a lot of hype and waiting from cricket fans in Pakistan for the anthem and this year is no different. PSL anthems over the years have broken many singing records and remained in top trends for many weeks.
PSL 2023 Slogan
The slogan is an important part of PSL's marketing strategy over the years and the official PSL 2023 Anthem will also revolve around the given slogan. This year the slogan was set as "Soch Hai Apki" but was later changed to "Sab Sitaray Hamaray".
Sources reveal the change in slogan happened because Ali Sethi was initially roped in as the singer for PSL 2023 anthem but was removed after his father Najam Sethi took over the job as PCB Chairman due to a possible conflict of interest.
PSL 8 Opening Ceremony Live Streaming
The opening ceremony of PSL 2023 will be broadcasted all around the world with top leading broadcasters from all regions already being roped in to provide uninterrupted world-class coverage of the whole event.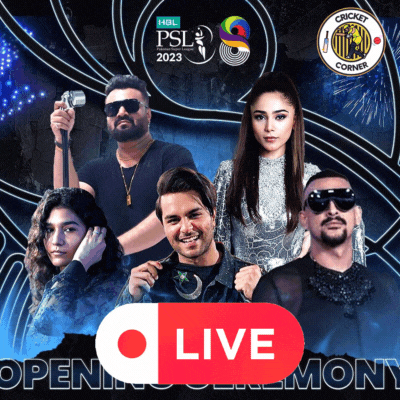 Cricket fans in Pakistan can watch the PSL opening ceremony 2023 live on PTV Sports HD & A Sports HD network along with many free mobile applications like ARYZAP, Cricwick, and others. Fans from India and around the world can learn more about PSL 2023 live-streaming partners who will cover the entire event in HD & Ultra HD quality.
AR & VR Technology For PSL 8 Opening Ceremony
For the 1st time in Pakistan, the use of AR & VR technologies will be on display for the live psl opening ceremony 2023 which is definitely going to shock and amuse millions of passionate cricket fans worldwide. Fans watching it on TV and on digital will see 3D interactive graphics while the cricket fans in the stadiums will be given shining bands which will shine and reflect during the opening ceremony and create a beautiful immersive view to a packed house crowd in Multan.
It is also revealed by media sources that first time, the use of high-tech drone technology will also be utilized which will create high-tech images in the sky with LED lights.
Chairman PCB, Mr. Najam Sethi has given the task to all PSL management to make sure this PSL is seen as the biggest ever league in history for Pakistan and the opening ceremony is all set to bring out a wow factor from the passionate cricket fans.