All you need to know about the TATA IPL 2023
The TATA IPL 2023 is all set to be played from 1st April to 28th of May 2023 which will feature 74 highly competitive matches on 10 different venues all across India. This will be the 16th edition of the Indian Premier League which shows it came a long way and with each passing year, it is getting bigger and bigger interms of viewership & broadcasting revenues. This year BCCI launched WPL (Women's Premier League) as well which will be played in March before the start of TATA IPL 2023. Since IPL 16 is only a few months away, we have answered some of the top questions which are currently trending and being asked by passionate cricket fans like yourself in detail below.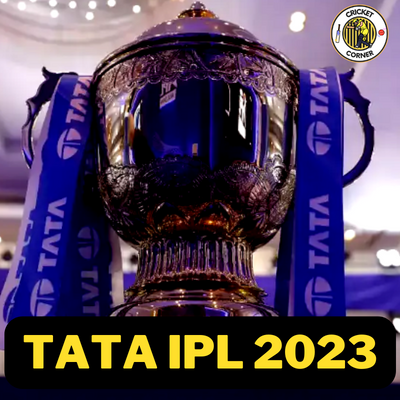 How many points to Qualify for IPL 2023
The top four teams in the points table at the end of the group stage qualify for the playoffs. Generally, 16 points are considered the benchmark which makes it nearly 95% certain a team will qualify for the playoffs. A team with 18 points in the group stage is confirmed as the top team to play in Qualifier 1 to have a chance to make a straight entry into the IPL 2023 Final.
How many matches will each team play in IPL 2023
For IPL 2023, BCCI has divided the teams into two different groups with five teams each which are Group A & Group B. The groupings have been done according to the previous performances of franchises in the last 15 seasons of IPL.
Each team in IPL 2023 is scheduled to play 14 group matches which will be played in the format mentioned below.
Each team plays the other team in their group twice in a double round-robin format which makes it 8 matches.
The remaining six matches are to be played against the five teams in the other group.
A team from Group A vs Group B will play two matches against each other which will be decided as per equivalent performances in the last 15 seasons. For example, the top team in Group A will go against the top team in Group B twice. An example would be Mumbai Indians in Group A with 5 titles while Chennai Super Kings in Group B with 4 titles and so on.
BCCI has divided the teams into two groups to minimize the league stage matches because if all teams were placed in a single group and played as per double round-robin format then each franchise had to play 18 matches which would mean IPL could go on for three months in already busy international and domestic leagues calendar.
Who is the captain of RCB in IPL 2023
Royal Challengers Banglore (RCB) has named Faf du Plessis as the captain for RCB in TATA IPL 2023 who was retained by the franchise for a whopping INR 7 Crore.
Who is the captain of CSK in IPL 2023
Chennai Super Kings (CSK) has the privilege to have Mahendra Singh Dhoni as their captain for TATA IPL 2023. It will most likely be the last season for Legend MS Dhoni in IPL as a player and it will be a great atmosphere when MS plays in Chennai during the IPL as captain.
Last year, Ravindra Jadeja was named as captain but in the mid-season, he opted out from the captaincy due to poor performances and MS Dhoni had to take charge.
Which team won IPL 2022
Last year, Gujarat Titans created history by winning IPL 2022 in their inaugural edition of IPL as BCCI had added two new franchises in the tournament with Gujarat & Lucknow as new participants. Gujarat becomes the 2nd franchise alongside Rajasthan Royals who are able to win the IPL trophy in their maiden IPL participation.
Who will win IPL 2023 astrology predictions
According to the assessment (Bhavishyavani) of different well-known astrologers, it has been predicted that Chennai Super Kings, Gujarat Titans & Rajasthan Royals are the front runners to reach the playoffs stage and the final may be played between CSK & GT. It will be a historic moment if GT bags another IPL title while for CSK as well it will be historic if MS Dhoni ends his career on a high by winning another trophy under his name.
How to watch IPL 2023 free
There are numerous ways to watch IPL 2023 free streaming not only in India but all around the world since the IPL fan following is at par or maybe even bigger than ICC World tournaments. Fans can watch TATA IPL 2023 for free on the Sports18 channel or via VOOT application in India while worldwide cricket fans can enjoy IPL live streaming 2023 on free streaming websites like WebCric, TouchCric & CricHD which will have the full IPL coverage throughout April & May.
Which IPL team has most fans in 2023
Because of the huge popularity of Indian Legend MS Dhoni, it is not shocking to know Chennai Super Kings holds the biggest fan following of a franchise in IPL.
CSK holds more than 32 Million followers on social media while MI is the second most-followed franchise with over 31 Million followers on social media. Both of these teams have together won 9 IPL titles already with MI got 5 while CSK has 4.
Royal Challengers Bangalore holds the 3rd biggest fan following on social media due to the modern legend Virat Kohli with over 25 Million followers on social media.
Who took the first hat trick of IPL 2022
Experienced spinner Yuzvendra Chahal took the 1st hattrick in IPL 2022 against Kolkata Knight Riders (KKR) at the Brabourne Stadium in Mumbai where he took the wickets of Shreyas Iyer Shivam Mavi and Pat Cummins.
How many teams will qualify for playoffs in IPL 2023
There will be top four teams at the end of the group stage will qualify for the playoffs round where 2 Qualifiers & one Eliminator will be played before we get to see the mega TATA IPL 2023 Final. The top 2 teams who win the most games in the group stage have the chance to play the 1st Qualifier and have a direct entry to the Final on the 28th of May 2023.
David Warner which team in IPL 2023
For IPL 2023, Delhi Capitals retained David Warner for 6.25 Crore and he is now the front-runner for the captaincy as well after Rishabh Pant suffered an unfortunate car accident and is out from cricket for 6 to 10 months. Warner is considered a top leader in the world circuit and he was in contention for a leadership role in Australia's national team as well recently but due to the sandpaper saga he had to go through extensive CA protocols and he finally gave up trying to be the captain for Australia.
Which team will win IPL 2023
According to our analysis, we predict Chennai Super Kings (CSK) to win the IPL 2023 which will be their fifth IPL title and it will be a great sight to see one of the greatest leaders ever in world cricket (MS Dhoni) says his final goodbye to cricket as a player with another major trophy under his belt.
How to watch IPL 2023 free without subscription
It is not mandatory to have a paid subscription to watch IPL 2023 live streaming on your digital devices as currently many of the Indian telecom networks are offering free VOOT subscription with your mobile data plans at a very affordable price point. Learn more about IPL 2023 Data plans for all popular telecom companies in India from here.
Sam Curran which team in IPL 2023
Sam Curran has been with Chennai Super Kings for quite some time but in IPL 2023 Auction event Punjab Kings created history by roping in Sam Curran for a historic high bid of INR 18.50 Crore which is the biggest auction bid ever for a player in IPL history.
Devdutt Padikkal which team in IPL 2023
Rajasthan Royals has retained Devdutt Dadikkal who is a stylish left-handed batter at a whopping retention money of 7.75 Crore. He got the full backing of RR head coach Kumar Sangakkara who see great potential and future in him. Devdutt has so far scored 2388 runs in T20s at an average of 34.60 with a strike rate of 134.76 with 3 hundreds and 14 half-centuries.
Steve Smith which team in IPL 2023
Delhi Capitals released Steve Smith before the IPL Auction 2023 event and he remained unsold at the auction which was a bit shocking for many cricket fans worldwide. Smith had given a great shut-up call to everyone who doubted his skillset for T20s as he scored 2 back-to-back hundreds at the Big Bash League just recently for Sydney Sixers with brilliant power hitting.
IPL on which channel in India 2023
Viacom 18 & Star Sports has purchased the broadcasting rights for ₹48,380 crores for both linear & digital media rights from 2023-2027. All Indian cricket fans can enjoy IPL 2023 live coverage on Star Sports Network in Hindi & other regional languages along with live coverage on Jio Cinema & VOOT application.
Who is the captain of Ahmedabad in IPL 2023
Gujarat Titans is a franchise from Ahmedabad that played their 1st IPL season last year which they won and joined the Champions list of teams who won the IPL title in their inaugural season.
Rajasthan Royals achieved IPL glory in 2008 while Gujarat won last year in IPL 2022.
Where to book IPL tickets 2023
TATA IPL 2023 is all set to be hosted on 10 different venues because this year as there are no restrictions imposed by the Indian government related to covid-19 protocols. All cricket fans can easily book their tickets through online IPL 2023 ticket platforms such as BookMyShow, TechGenie, EventsNow, Paytm & Insider.in. Physical tickets can also be purchased from booking offices located inside the stadiums but they often have limited quantities of IPL tickets available with long queues of fans waiting.
Ben Stokes which team in IPL 2023
Chennai Super Kings were desperate to onboard a quality medium-pace all-rounder who can bowl and play as a finisher for the team. CSK roped in Ben Stokes in IPL 2023 auction event for a whooping INR 16.25 Crore. Stokes can also become a captain in upcoming seasons for CSK when legend MS Dhoni officially announces his cricket retirement so this is a good tactical pick by CSK as they can now easily retain him for next seasons.