How To Watch YuppTV Live Cricket Streaming [World Cup Live]
Are you a cricket enthusiast looking for a reliable platform to stream live matches? Look no further! In this article, we will guide you on how to watch YuppTV live cricket streaming, ensuring you never miss a thrilling moment on the field. As a seasoned sports broadcasting journalist, I have explored various streaming services, and YuppTV stands out as a top-notch option for cricket fans worldwide. So, let's dive into the details and discover how you can enjoy your favorite matches with just a few clicks.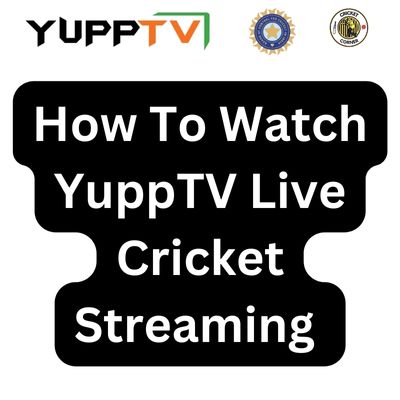 YuppTV Live Cricket Streaming for Free
You can watch YuppTV Live Cricket Streaming for free and enjoy the Asia Cup 2023 and ICC Cricket World Cup events. YuppTV is a global video streaming platform that offers live cricket TV channels in 20 languages. Whether you live outside of India or want to enjoy Indian content along with live cricketing events, YuppTV is the perfect solution. With YuppTV, you can stream cricket live for free online and never miss a moment of the action.
YuppTV provides a reliable and scalable network for broadcasters and content providers to connect with customers internationally. They offer their services on various devices, including Connected TVs, STBs, PCs, smartphones, tablets, and even social networking sites. You can access YuppTV programming on popular platforms such as iPhone, Android, Xbox 360, Playstation 4, Samsung Smart TV, and Amazon Fire TV.
If you are new to YuppTV, they have a fantastic offer for you. They are currently providing a 14-day free trial in 14 different languages. This means you can enjoy free live cricket online and experience all the features and benefits YuppTV has to offer.
Why Choose YuppTV Over Other Platforms?
Choosing this platform over others gives you access to over 200 South Asian networks and a vast amount of on-demand content, making it a worthy contender for your attention. YuppTV is not just another streaming platform; it's a hub for a broad spectrum of entertainment, including yupptv live cricket, a must-have for any cricket enthusiast.
One reason is its diverse content. With YuppTV, you're not just restricted to cricket; you can enjoy a variety of shows and films too. Then there's the ease of access. The YuppTV app is available on 25 devices, so you can watch your favorite cricket match on your phone, tablet, or even game console. You can enjoy YuppTV anytime, anywhere, without the need for a cable or satellite connection.
When it comes to YuppTV packages, there's something for everyone. Whether you're interested in movies, TV shows or live sports, there's a package tailored to your needs. Plus, with the YuppTV subscription USA, you get access to premium South Asian content not readily available on other platforms.
Moreover, YuppTV adds over 5000 hours of fresh on-demand content daily, keeping you engaged with the latest and hottest shows. And if you ever run into any issues, the 24/7 hotline is there for instant support.
YuppTV Subscription Plans
Now that you're clued in on why YuppTV is a top pick for cricket streaming, let's dive into their subscription plans. Whether you're in the US or India, you'll find a package that works for you. And, if you're a cricket fanatic, their special cricket package will be right up your alley.
YuppTV USA Packages
In the USA, you're offered a variety of YuppTV packages to choose from, each tailored to meet your language preference and viewing needs. You're able to enjoy yupptv live cricket streaming, ensuring you don't miss out on any upcoming cricket events. YuppTV USA packages are available in over 14 languages and include channels like the Yupp Hindi Gold Pack, Yupp Scope Video Telugu, and Yupp Marathi Hindi Gold. The yupptv cost is affordable, with monthly rates as low as $9.99 and yearly rates starting at $59.99. With such diversity and flexibility in packages, you can keep up with all the cricket action, be it the Asia Cup or CWC23 live. So, choose YuppTV and enjoy seamless cricket streaming right at your fingertips.
| | | | |
| --- | --- | --- | --- |
| Package | Monthly Cost | Yearly Cost | Channel # |
| Yupp Hindi Gold Pack | $9.99 | $59.99 | 129 |
| Yupp Scope Video Telugu Basic Pack | $24.99 | $129.99 | 133 |
| Yupp Scope Video Telugu | $29.99 | $149.99 | 134 |
| Yupp Scope Video Tamil Basic Pack | $21.99 | $129.99 | 140 |
| Yupp Scope Video Tamil | $24.99 | $149.99 | 141 |
| Yupp Scope Video Kannada | $21.99 | $139.99 | 123 |
| Yupp Punjabi Hindi Gold | $9.99 | $59.99 | 129 |
| Yupp Scope Video Malayalam | $21.99 | $139.99 | 134 |
| Yupp Scope Video Malayalam Tamil | $24.99 | $159.99 | 148 |
| Yupp Marathi Hindi Gold | $9.99 | $59.99 | 127 |
| Yupp Bengali Hindi Gold | $9.99 | $59.99 | 126 |
YuppTV Subscription in India
For just INR49 a month, you'll get the YuppTV Basic Pack in India, which includes 156 channels to enjoy. With your YuppTV India subscription, you're not just limited to local shows; you can also follow your favorite sport – cricket. It's a breeze to watch live cricket online on YuppTV, whether it's an IPL match or an international tournament.
| | | |
| --- | --- | --- |
| Name of Pack | Monthly | No: of Available channels |
| Yupp TV Basic Pack | Rs 49/- | 156 |
YuppTv Cricket Package
Now that you have learned about the YuppTv subscription plans, let's dive into the exciting YuppTv Cricket Package. With this package, you can enjoy watching live cricket online on YuppTv. Whether it's the IPL 2024 or the ICC World Cup, you won't miss a single moment of the action.
With subscription charges ranging from $9.99 to $99.99, you can access over 200 live Indian TV channels and seven days of catch-up TV. Plus, the HD cricket streaming on YuppTV ensures you won't miss a single detail of the match.
| | | | |
| --- | --- | --- | --- |
| Subscription Plan | Price | Duration | Channels |
| Monthly | $9.99 | 1 month | Over 200 live Indian TV channels, seven days of catch-up television, and live streaming of cricket matches are available online. |
| Quarterly | $49.99 | 3 months | Same as Monthly plan |
| Yearly | $99.99 | 1 year | Same as Monthly plan |
| Free Trial | 14 days | 14 days | Over 200 live Indian TV channels, seven days of catch-up television, and live streaming of cricket matches are available online. |
YuppTV App Download
There's no need to worry, downloading the YuppTV app is a breeze and you'll be streaming live cricket in no time. Whether you're an Android user or an iOS devotee, you can find yupptv app download on both the Google Play Store and the Apple App Store. Just search for "YuppTV," click on the app and hit the 'Install' button.
If you're new to YuppTV, you can take advantage of the yupptv free trial. This will allow you to explore the platform and enjoy live cricket streaming for a limited period without any cost. If you like what you see, you can choose to subscribe.
How To Use The YuppTV App
Now that you've downloaded the YuppTV app, let's dive into how to use this fantastic cricket match streaming app. This platform is a game-changer for cricket fans, especially with the upcoming Yupp TV IPL matches.
After launching the app, you'll be prompted to sign up. While this step can be skipped, signing up offers a seamless experience and allows you to tailor your preferences. Once registered, you'll choose your preferred languages. With 13 regional languages offered in India, you're sure to find your comfort zone.
Next, navigate to the show or cricket match you want to watch. The live video streams just like a TV broadcast, bringing the thrill of the game right to your device. You've got two on-screen options: 'Live TV' and 'Catch-up TV'. 'Live TV' is split between 'Trending Live', which is viewer-driven, and a list of all available channels.
'Catch-up TV' offers a library of TV programs and movies. Tap on your desired show or film, and you're ready to enjoy uninterrupted viewing, a significant perk of Yupp TV subscriptions.
The YuppTV app rivals platforms like Hotstar, with the added benefit of live TV on your device. This makes it a preferred choice for keeping up with the excitement of the cricket world, be it Asia Cup or CWC23 Live.
YuppTV Scope For BSNL Users
As a BSNL user, you have access to a fantastic deal on the Scope bundle, which combines content from multiple premium OTT platforms into one convenient subscription. This means you have the opportunity to free watch live streaming cricket and many other shows across various platforms, all rolled into one package.
With YuppTV Scope, you get access to YuppTV Premium, ZEE5 Premium, SonyLIV Special Pack, and Voot select Pack. This means you can stream over 300+ live entertainment, sports, music, and kids TV channels. In addition, you have access to more than 500 TV shows, 100+ original web series, and over 8000 movies. All of this is available to you for just Rs. 199 per month, with GST extra as applicable. And if you act fast, you can take advantage of the launch offer and get YuppTV Scope for only Rs. 129 per month for the first three months.
YuppFlix Membership Explained
With a YuppFlix membership, you can access a wide range of Indian movies and TV shows in nine regional languages. YuppFlix is a product of YuppTV, and it offers an extensive collection of over 3000 movies in various genres such as Humor, Romance, Spiritual, Drama, Adventure, Thriller, and Classic films. Whether you are a fan of Bollywood or regional cinema, YuppFlix has something for everyone.
One of the key benefits of YuppFlix membership is the convenience it offers. You can watch movies anytime and anywhere, whether you are at home or on the go. All you need is a device with an internet connection, and you can stream your favorite movies and TV shows at your convenience.
Watch IPL 2024 Live on YuppTv
Get ready for the excitement of IPL 2024 as YuppTV brings you the live coverage of all the T20 matches. With YuppTV's extensive digital television rights, you can now enjoy the thrill of the Indian Premier League in almost 100 countries. The deal includes broadcasting 60 T20 matches from the 14th season of the cricket league, ensuring that cricket enthusiasts around the world don't miss a moment of the action.
YuppTV IPL will be streaming the matches live in over 100 countries and territories, including Continental Europe, Australia, Sri Lanka, Southeast Asia (excluding Singapore and Malaysia), Central and South America, Central Asia, Nepal, Bhutan, and the Maldives. This means that no matter where you are, you can tune in to YuppTV and catch all the cricketing action, right from the comfort of your own home.
ICC World Cup 2023 Live Streaming on YuppTv
Don't miss a moment of the live cricket action as YuppTV brings you the exclusive coverage of the ICC Cricket World Cup 2023. Cricket fans from India and around the globe can easily watch the CWC live coverage on YuppTV for free, without any additional charges. This mega cricket event is highly anticipated by more than a billion passionate cricket fans living in India and around the world which YuppTV is making sure that they don't miss out on any of the thrilling matches.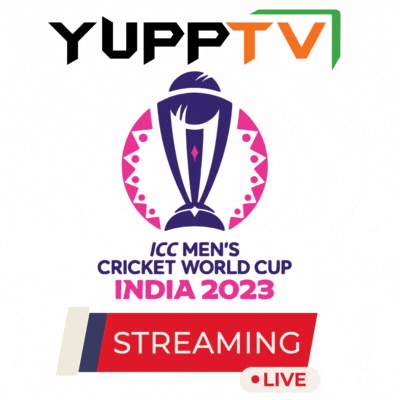 YuppTV will be broadcasting the same stream that will be available for free on Star Sports & Hotstar Network in India. This means that you can enjoy the ICC Cricket World Cup 2023 on YuppTV without having to worry about missing any of the action.
Yupptv Supported Devices
You can easily access YuppTV on a variety of devices, such as Android, Apple, XBOX, Amazon Fire TV, and more. Whether you have an Android smartphone or tablet, an Apple iPhone or iPad, or even an XBOX gaming console, you can enjoy the YuppTV app and its vast content library. Additionally, if you have an Amazon Fire TV device, you can download the YuppTV app and start streaming your favorite shows and channels.
The YuppTV app is also available on Smart TVs, such as those with Android TV or Opera TV store. This means that you can directly access YuppTV on your Smart TV without the need for any additional devices. Furthermore, if you have a TiVo device or a Roku Powered Device, you can easily install the YuppTV app and start enjoying live TV and on-demand content.
For those who prefer gaming consoles, YuppTV is compatible with the XBOX, allowing you to stream your favorite channels and shows directly on your gaming console. Additionally, if you own a PlayStation 3, you can also download the YuppTV app and enjoy the content on your console.
If you prefer a more compact streaming device, YuppTV is also available on Apple TV and Telstra TVScop. These devices offer a seamless streaming experience, allowing you to access YuppTV and enjoy its vast content library.
How to Cancel Yupptv Subscription
While Yupptv is your go-to platform when you want to catch up on live cricket games, like the Asia Cup and CWC23, there may come a time when you need to cancel your subscription. The process is simple and tailored to your initial subscription method.
If you've been enjoying those thrilling cricket matches through a subscription that you purchased via PayPal or Google Play, you'll need to cancel the renewal directly with them. Simply navigate to your account settings on either platform and follow the steps for subscription cancellation.
If you subscribed via a Credit/Debit card, your cricket streaming journey takes a different turn. You'll want to head over to the 'My Account' section of the Yupptv website. Once there, look for the cancellation option to stop your subscription from renewing. It's a straightforward process that ensures you're not billed for streaming services you no longer require.
Lastly, those who took the Apple route, paying for their subscription via the iTunes Store, can make changes or cancel directly in their iTunes account settings. Just like a good cricket game, the control is in your hands.
How To Contact YuppTV Customer Care?
You'll find that reaching out to their customer care is a breeze, with a dedicated team ready to assist you round the clock, no matter where you're located in the world. Whether you're in the Americas, Europe, Middle East, Africa, or Asia, YuppTV's customer care is just a phone call away.
| | |
| --- | --- |
| Support Number | Country |
| 1866-663-7557 / 1855-498-7788 | USA & Canada |
| 0800-086-8286 | UK & Europe |
| 1800-612-952 | Australia |
| 800-852-3026 | Singapore |
| 1800-816-557 | Malaysia |
| 0800-452442 | New Zealand |
| 8000-182449 | UAE – Middle East |
| 0800-189-9368 | Germany |
| 0-800-990-277 | South Africa |
| 0800-080-070 | Switzerland |
YuppTV Alternatives
If YuppTV isn't meeting your needs, there's no need to fret as there are plenty of other platforms like Willow TV, SonyLIV, Star Sports, WebCric, and TouchCric that you can explore.