TNPL 2023 Ticket Booking Procedure, Price & Venues
Are you ready to witness some thrilling cricket action in Tamil Nadu Premier League 2023? If so, you need to know everything about the TNPL 2023 ticket booking procedure, price, and venues. From participating teams to the online booking process, we've got you covered with all the information you need.
Ticket Partners For TNPL 2023
Paytm Insider is the official ticket partner for TNPL 2023. This means that fans can easily book tickets online for all four venues in the league. With Paytm Insider, you can avoid the hassle of standing in long queues and waiting for your turn to buy tickets. The online platform allows you to book your tickets in a matter of minutes, from the comfort of your own home.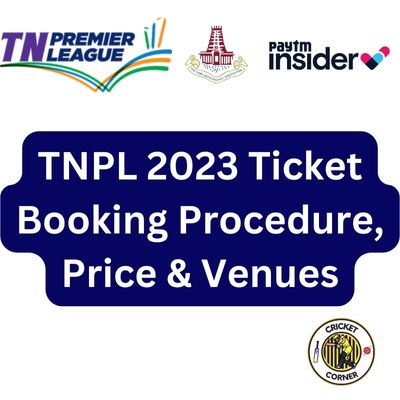 If you're planning to attend any of the TNPL 2023 matches, then you should definitely consider using Paytm Insider for your ticket booking needs. The platform is user-friendly and offers a wide range of options to choose from. Plus, you can be sure that you're getting genuine tickets that are not fake or counterfeit. This ensures that you can enjoy the matches without any worries or stress.
TNPL 2023 Ticket Booking Price
You can easily secure your spot at the TNPL 2023 matches by obtaining access to the lower level at a cost of ₹200. This is an affordable price for cricket enthusiasts who want to witness the action up close. Additionally, the upper-level seats in sections D and E are also available at the same price.
To purchase your TNPL 2023 tickets, you can use the TNPL Ticket Booking Paytm service. This is a convenient and secure platform that allows you to book your seats from the comfort of your home. With just a few clicks, you can select your preferred seat and make the payment online.
Tamil Nadu Premier League Participating Teams
As a cricket enthusiast, chances are you're already familiar with the eight participating teams of the Tamil Nadu Premier League, each representing a different district of Tamil Nadu. These teams are:
If you're planning to watch a TNPL match, you'll need to know the participating teams to choose the one you want to support. The teams have their own unique strengths and weaknesses, so it's important to do some research before you book your tickets. You can find information about TNPL 2023 All Teams Squad and pick your favorite franchise.
TNPL 2023 Venue Details
Get ready to immerse yourself in the excitement of Tamil Nadu Premier League 2023 as the cricket matches are scheduled to take place in Coimbatore, Tirunelveli, Dindigul, and Salem. The SNR College Cricket Ground in Coimbatore, ICL Sankar Nagar Ground or Indian Cement Company Ground in Tirunelveli, NPR College Ground in Dindigul, and SCF Cricket Ground in Salem are the venues where the matches will be held. Each venue has its unique characteristics, making it an exciting experience for cricket fans.
Coimbatore, Tirunelveli, Dindigul, and Salem are all cities with rich cultural heritage, and they offer a unique experience to visitors. Along with enjoying the cricket matches, you can explore the local attractions, try local cuisine, and indulge in some shopping. TNPL 2023 promises to be an exciting event, and attending the matches at these venues will be an experience to remember. So, plan your trip, book your tickets, and get ready to be a part of the cricketing frenzy.
How To Book TNPL Tickets Online Through Paytm Insider
Experience the excitement of the Tamil Nadu Premier League 2023 matches by easily securing your seats online through Paytm Insider. With just a few clicks, you can book your tickets and get ready to cheer on your favorite teams. Here's how to book TNPL tickets through Paytm Insider.
First, head to the Paytm Insider website or app and search for "TNPL"or "Tamil Nadu Premier League". Once you find the event you want to attend, select the date and venue, and choose your desired seating category or section. Then, select the number of tickets you want to purchase and proceed to the checkout page.
On the checkout page, you will need to provide your personal information and choose your preferred payment method. Paytm Insider offers various payment options, including credit/debit cards, net banking, UPI, and digital wallets. Follow the instructions to complete the payment process, and you will receive a confirmation of your ticket booking via email and/or SMS. Remember to bring your ticket, either in physical or digital form, to the TNPL match venue. Get ready to enjoy the thrill of the game!
Frequently Asked Questions
Is there a limit to the number of TNPL 2023 tickets I can purchase?
You can purchase as many TNPL 2023 tickets as you want, there's no limit. So go ahead and get tickets for yourself, your friends, and your family.
What happens if I lose my TNPL 2023 ticket?
Losing your TNPL 2023 ticket can be a nightmare, but don't panic. You can contact the ticketing agency and they'll assist you in getting a replacement. Just remember to keep your ticket safe next time.
Can I get a refund on my TNPL 2023 ticket if I am unable to attend the match?
If you can't attend the TNPL 2023 match, unfortunately, you won't be able to get a refund on your ticket. It's important to make sure you can attend before purchasing your ticket to avoid disappointment.
Are there any special rules or restrictions for children attending TNPL 2023 matches?
Bringing your little ones to TNPL 2023 matches? Keep in mind that children under the age of 4 can sit on your lap for free, but any child over 4 will require a separate ticket. Don't forget to bring earplugs for their sensitive ears!
Will there be any special discounts for senior citizens or students at TNPL matches?
Sorry, there are no special discounts for senior citizens or students at TNPL matches. However, the ticket prices are reasonably affordable for everyone.
Is it possible to upgrade or downgrade the ticket category after booking?
Yes, you can upgrade or downgrade your ticket category after booking, but it depends on ticket availability. Contact the ticketing platform or venue for assistance. And remember, no refunds are allowed.
Are food and beverages included in the ticket price or do they need to be purchased separately?
Food and beverages are not included in the ticket price for TNPL 2023. You'll need to purchase them separately at the venue. Don't worry, there will be plenty of options to satisfy your cravings!
What are the parking arrangements at TNPL 2023 venues?
Parking arrangements at TNPL 2023 venues vary. Some venues have on-site parking available for a fee, while others may have limited parking and suggest using public transportation or ride-sharing services. Be sure to check the venue's website for specific information.